After sharing our recommendations for a zero-waste bathroom, we couldn't ignore the kitchen. Indeed, it is also one of the easiest rooms in the house to reduce its environmental impact. The amount of plastic we use is staggering and there are many ways to reduce it considerably and move towards a plastic-free kitchen. So here are our eco-friendly essentials for a zero waste kitchen, the ones we've picked up over the years for achieving a zero waste kitchen (or at least as much as possible).
As usual, if you have Pinterest I invite you to save this article to find it easily! 🎯

Foil and aluminium foil, why not try other alternatives both ecological and economical
What we tend to forget when we move to sustainable living is that the cost of buying green alternatives is higher, but they are products that can be used over many years. In the long run, we win. So here are two options to replace cling film and foil that are a little more expensive to buy, but can be used for years.
Beeswax food packaging
They can be bought either as a roll to be cut to your needs or as pre-cut sheets of different sizes. Simply heat them with your hands to make them easier to work with and then wrap your dishes or food directly with them.
Where to find beeswax food packaging?
I didn't buy mine in France but you can find them in organic shops, bulk shops or on the Greenweez website.
Extensible silicone wrap
Our favourite! I bought three different sizes over a year ago and we love them. They are super convenient and dishwasher safe. With three sizes, it fits any size of dish or food.
Where to find extensible silicone wrap?
I had bought them from Nature et Découvertes but I can't find them on their website anymore. You can still try to ask if you go there for something else. Otherwise, you can also find them on zero waste websites.
Solutions to avoid plastic water bottles
For still water

There are several easy zero waste alternatives to plastic water bottles. The first is that if you live in an area where the tap water is good quality, why not enjoy it? And for your trips, you can invest in a reusable bottle that you fill before you leave.
If you're not comfortable drinking tap water, why not buy a Brita-style water filter jug? This will allow you to enjoy filtered tap water and significantly reduce the amount of plastic in your kitchen. Again, the first price of the Brita carafe is 19.90 euros, a pack of water costs a minimum of 1.50 euros. Within a few weeks, depending on your consumption, the Brita carafe will pay for itself.
Another option for filtering your water is activated charcoal. It absorbs impurities in the water such as chlorine and improves the taste of the water. You can place it directly into a reusable bottle, flask or jug.
What about sparkling water?
Why not buy a SodaStream machine? You can also use tap water and avoid buying plastic water bottles.
Whether it's still or sparkling water, if you choose to adopt these solutions you will significantly reduce plastic in your kitchen and in your daily life.
Coffee please!
Yes, but a coffee with the least impact on the environment as possible. Again, zero waste solutions exist. Although the coffee industry is far from being a sustainable and ethical industry, there are some essentials you can implement to minimize your waste in the kitchen.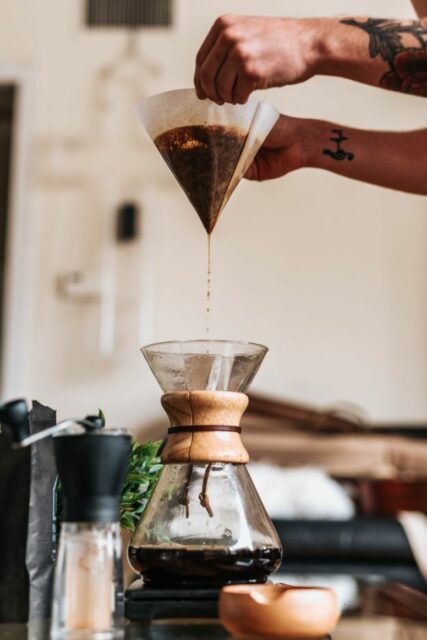 How to reduce waste with a traditional coffee machine?
First of all, if you use a classic coffee machine with a filter, you can use a reusable coffee filter. They come in a variety of materials depending on your preferences and budget. The Hakuna Taka brand, for example, offers coffee filters made of organic linen. But there are also coffee filters made of organic cotton, hemp, stainless steel, etc.
For those of you who like to sew, you can also make your own. Here is a short article on how to make a reusable coffee filter: DIY zero waste reusable cloth coffee filter.
How to reduce waste with a pod coffee machine?
Let's move on to pod coffee machines, which I myself have used for several years. Although some brands offer to take back used pods for recycling, there is no evidence that this is done. Especially when you consider that, in France, the majority of plastic from our waste recycling is not or cannot be recycled. I actually wrote an article on plastic pollution and the current situation.
What are the solutions? There are two. Either agree to give up pods and switch to a pod-free coffee machine. This is the option I chose and I am very happy with it. I enjoy my little cappuccino that I make for myself even more. I chose the De'Longhi coffee machine which allows me to make espressos and cappuccinos. One of the first prices that I have long since paid off. Indeed, there is no need to buy a barista coffee machine, there are some very good ones at correct prices or equivalent to capsule coffee machines.
The second solution is stainless steel pods that you can fill directly with ground coffee. No more plastic pods, here is another zero waste kitchen essentials that is so worth it.
Composting
An eco-friendly solution that we adopted when we lived in Paris but had to give up when we moved to Biarritz because we no longer had a compost bin in our residence and no garden.
If this is possible for you, here is a green initiative that will allow you to recycle your organic waste (fruit and vegetable peelings, coffee grounds, egg shells, etc.). Here is an article that will help you learn how to compost your waste: How to properly compost and recycle?
Don't throw away your plastic Tupperware
Avoiding plastic is an essential and key part of a sustainable and planet-friendly lifestyle. But it also means not wasting but rather recycling and reusing. So just because you are looking forward to having a zero waste kitchen doesn't mean you should throw away what you already have, as this would be wasteful and create more plastic pollution. And in this case, unnecessary plastic pollution.
However, if you need to buy new ones, you can opt for glass Tupperware. Or recycle your jars. When you buy food in jars, clean them and keep some to use as containers.

Our zero waste kitchen essentials for cleaning
Household products for a zero waste kitchen
Be minimalist. You don't need a dozen different household products. Here are our essentials for a zero waste kitchen:
Dishwashing liquid
Dishwasher liquid
Cleaner for all surfaces ( we use the refillable product from the brand YOU)
Ecological version of Destop for drain maintenance
If you can buy these products with eco-labels it's even better. And best of all, just like household products for the bathroom, you can make them yourself if you have the time. It's really simple, economical and ecological. The perfect combo!
Here is an article on how to make your own household products: DYI cleaning products.
An alternative to paper towels
We always have a roll in our kitchen but it can last for months now. To achieve this, we choose to use washable cloths and multi-purpose microfibre cloths instead of always using paper towels. A zero waste essentials you can also try and implement in your sustainable lifestyle.
I will stop here because this article might never end but I will come back to it if we adopt new habits to have a zero waste kitchen. Please feel free to comment and share this article so that more and more people can have access to eco-friendly solutions in their daily life.
Talk soon 🌿