As of Monday 16 May 2021, the Covid19 quarantine is no longer mandatory for European travellers to Italy. Restrictions have been eased and, to our delight, we can finally start travelling again. Sicily, the largest Mediterranean island, is only a 2-hour flight from France, so you may be considering this island full of culture and paradise for your next holiday. To be honest, I hesitated for a long time to write about our 8 days Sicily itinerary. Simply because we didn't choose to do a classic itinerary and I wasn't sure if you were interested. But after all, I thought it was a bit of a shame not to share with you our experience and the beautiful places we discovered from Catania.
(This post contains affiliate links, which means I receive a certain percentage of a sale if you purchase after clicking.)
---
Some information about our 8-days itinerary in Sicily
We only had 8 days to travel, and for this reason we did not want to cover long distances in order to make the most of each place. As we landed in Catania airport, we chose to travel the eastern part of the island. If you have more time, no matter which city you arrive in, usually Palermo or Catania, you will surely explore the eastern part as well. So here is our 8 days Sicily itinerary and the places you shouldn't miss out on.
With other travel plans that year, we decided to go on a low budget road trip. As a result, the places we stayed were not necessarily fancy. However, if you are looking for clean, well located and welcoming places, we can only recommend them to you.
1st stop: Taormina

Taormina is a small, charming hilltop village. The perfect place to start our itinerary and immerse ourselves in Sicilian culture. We were lucky enough to go in February. Although the weather was not very warm, most of the places we visited were deserted.
Walking through the narrow streets of this picturesque town allowed us to really relax and get into "holiday mode". I imagine that in summer this place must be crowded but the charm will always be there. Don't miss the old theatre which is just beautiful with its view of Mount Etna. But also, the street of "Corso Umberto" which must be packed in summer but unmissable if you stay in this small seaside town.
My favourite place was Isola Bella with its turquoise water and small island. How I would love to be the owner of the only house on this tiny island. It really is a piece of paradise.
Where to sleep in Taormina?
Our first accommodation was very basic but the value for money was pretty good and the location was good as we could walk anywhere. Avoiding the car is always an advantage in my opinion. Firstly because I find that it allows you to discover many more things than if you were to get around by car, but above all because it allows you to reduce your CO2 impact. It's a combination of the useful and the pleasant!
Our accommodation: 2 nights in B&B Iris
2nd stop: The Valley of the Temples and Scala dei Turchi (Stairs of the Turks)
Without a doubt two must-sees in the south-eastern part of the island. Both are wonderful places to see and visit.
The Valley of the Temples
The Valley of the Temples is located in the archaeological area of Agrigento. It is a site where 10 temples were built. The temple of the Concord is one of the best preserved and I must admit that this monument is really impressive. Not only because of its architectural prowess but also because of the atmosphere that emanates from it. If you closed your eyes, you could almost imagine yourself back in Roman times. The fact that we were, once again, almost alone on the site accentuated this atmosphere even more.
Scala dei Turchi
A few minutes drive from the Valley of the Temples (15 min), I recommend you to stop at the Scala dei Turchi near Realmonte. A beautiful and unique place where the cliffs have taken the shape of stairs due to the erosion caused by the sea air and the wind. Made of marl, a pure white sedimentary limestone, the colour of the Scala dei Turchi contrasts perfectly with the azure blue of the Mediterranean Sea.
For the story, its name comes from the fact that Saracen and barbarian pirates, called "Turks" by the locals, used this place to invade and plunder the island.
After enjoying this beautiful place we headed to Caltagirone for the next stop on this 8 days Sicily itinerary. Arriving in the middle of the afternoon, we put our baggage down in a B&B before going for a walk through the city centre.
3rd stop: Caltagirone
Caltagirone is a small Sicilian town also known as the "capital of ceramics". We only spent a half day there but I would say you can stay longer. It always depends on what you like to visit. We rarely visit religious monuments or museums so we sometimes don't need that much time to visit a place. It always depends of the place but usually we prefer to walk around the streets.
The two places I recommend you to see are the famous stairs of Santa Maria del Monte. Each step is covered with ceramic, it's really stunning and the adjacent streets are so typical of how you imagine Sicily. At the top, you can (finally) sit back and enjoy the view over the city.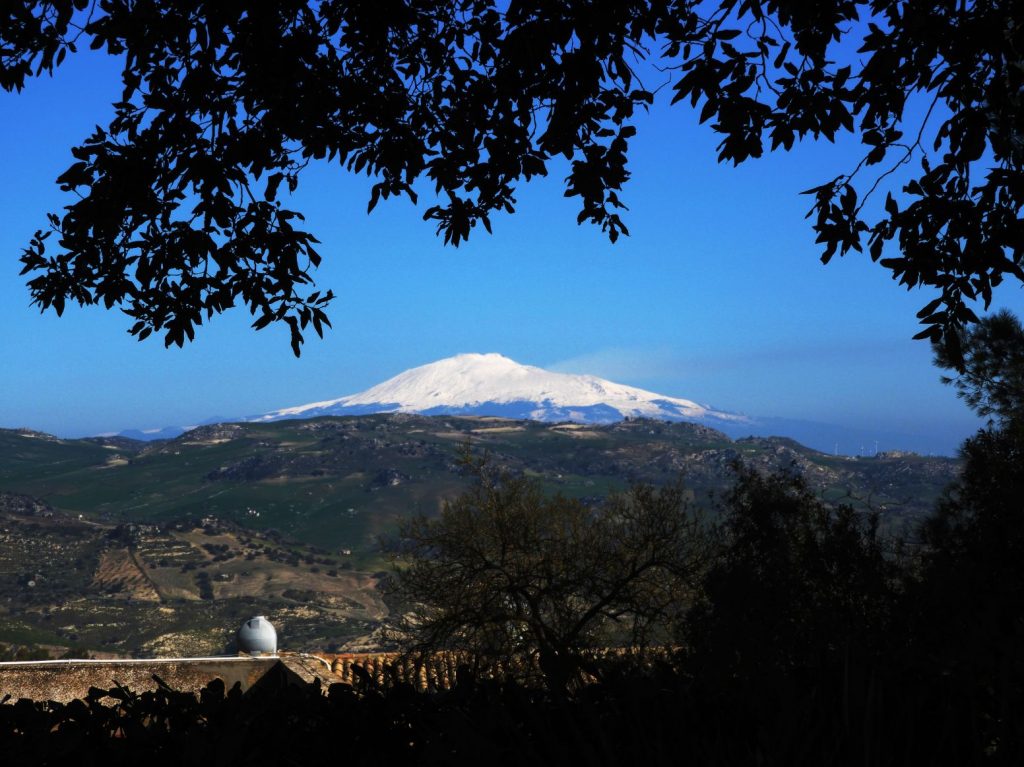 The second place I loved was the public garden. Not so much for the place, which is still very simple, but for the view of Mount Etna. A few minutes walk from the historical centre, it would be a shame not to stop there.
We then set off for Syracuse, which was one of the most important cities of ancient Greece and today a pretty coastal town considered one of the most beautiful cities in Sicily.
Where to sleep in Caltagirone?
Our accommodation: 1 night in B&B Girosa
4th stop: Syracuse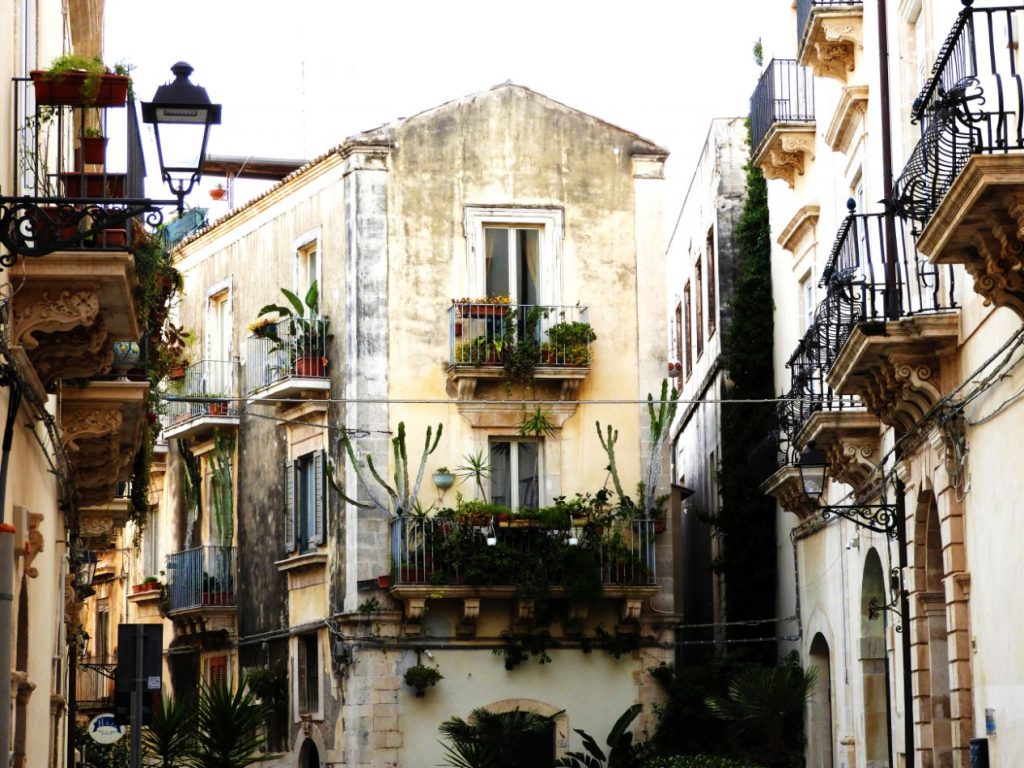 Our favourite place of this 8 days Sicily itinerary! Its historical centre, located on the island of Ortygia (Isola Ortigia), has been established by UNESCO as a World Heritage Site. It is without a doubt a place not to be missed during your stay in Syracuse.
We loved the walks along the Lungomare at any time of day. In the morning when the city is slowly waking up or in the evening to watch the sunset before going to taste the Sicilian cuisine in one of the many restaurants.

In the city centre, you can admire the Piazza Duomo overlooking the Cathedral of Syracuse and the Church of Santa Lucia Alla Badia. The exterior of both monuments is beautiful so I imagine that for people who like to visit religious places, the interior must be just as incredible!
Where to sleep in Syracuse?
Our favourite accommodation for this trip. It was my birthday so we increased the accommodation budget a bit for these 2 nights in Syracuse. We stayed in a very cosy flat with an ideal location on the Isola Ortigia so we didn't need to use the car again.
Our accommodation: 2 nights at Palazzo Spagna
Where to eat in Syracuse?
This was another favourite of the trip. The place is so unique, whether you eat on the terrace or inside, you feel as if you were invited to the chef's house. With furniture like at home, sofas where you can enjoy a good snack (yes, we went there several times and at any time of the day!) It's the kind of place where you settle down and don't want to leave! And the only place where we found vegetarian options on the menu (other than Caprese salad).
Our personal favourite: Sole e Luna Home Restaurant
4th stop: Catania
Back to Catania and the end of this 8 days Sicily itinerary. We enjoyed this coastal town but did not really fall in love with it. Therefore, I don't necessarily recommend you to stay there if, like us, you only have a few days to visit the eastern part of Sicily.
We spent one night there as our flight was early in the morning the next day. Otherwise, I don't think it is necessary to stop.
Where to sleep in Catania?
Again for budget reasons, we had chosen a hostel type of accommodation but with our own room. However, the bathroom was shared. Of course, it's up to you to decide what type of holiday you want to go on.
Our accommodation: 1 night in B&B Miro
Don't forget to save this guide on Pinterest so you can find it more easily! 🎯
---
I hope this 8 days Sicily itinerary is useful and has inspired you for your trip. Feel free to contact us if you have more questions and share this article if you find it useful 🍃