We just came back from our first trip to Corsica, and certainly not the last. Before telling you more about the places we visited in South Corsica, let's start from the beginning: how to get to Corsica? You may be wondering what is the best way to get to the "Isle of Beauty" as it is called in French. We will try to answer these questions in this article.
---
Is it faster to go to Corsica by plane or ferry?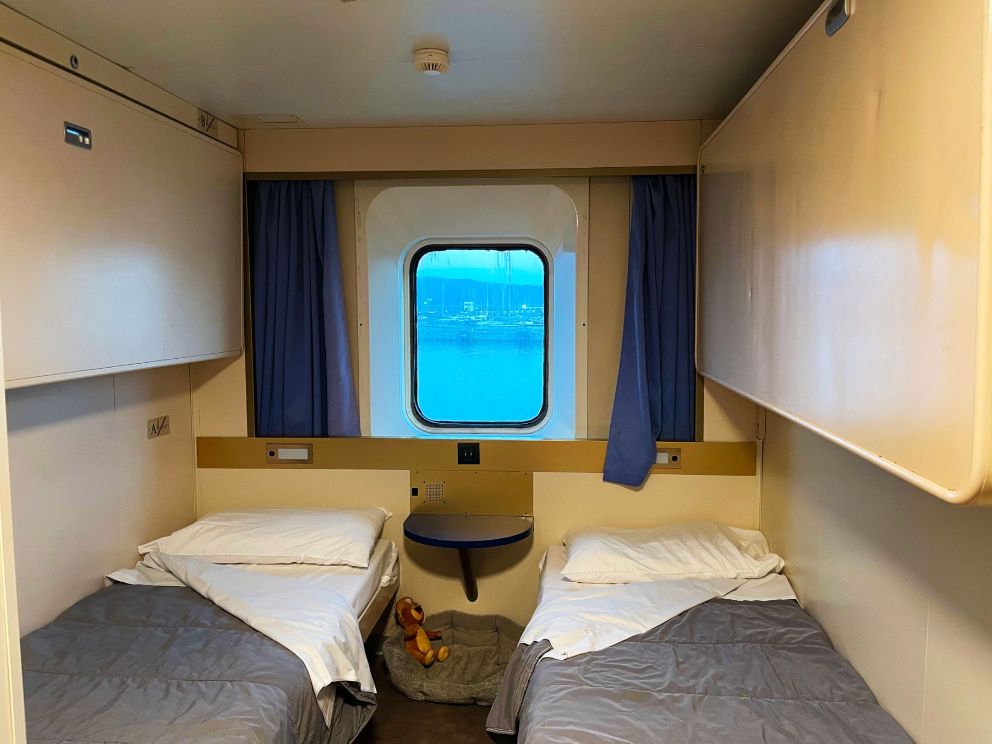 The first thing to consider is where you live. If you do not live near an airport serving Bastia or Ajaccio or the port of Marseille or Toulon, is it quicker and more convenient to travel to one of these airports or ports? This may already give you an idea of what seems to be the best option for your transport choice.
Secondly, a flight itself is definitely faster than a ferry crossing. However, remember to work out what time you need to get to the airport. But also to check in, embark, disembark, go through customs if necessary, etc. For the ferry, you need to board at least half an hour before departure (with Corsica Ferries). Allow a maximum of half an hour for disembarkation as well.
In addition, you should know that the crossing is overnight. During our research, we looked at several cruising companies. All of them left around 8pm in the evening and arrived around 7am. This means that you don't waste time on your holiday in Corsica. We chose to pay a little more for a cabin with real beds so that we could be well rested when we arrived in Ajaccio.
Travelling to Corsica by plane and renting a car or by ferry with your own car?

Another point to consider that may affect not only your budget but also the practical aspects. If you have a car, check that it is not cheaper to take it on the ferry than to rent one locally.
For this point, I can't tell you what is best as prices vary according to the season. Therefore, I advise you to look at the time you know your holiday dates.
Another advantage of taking your own car is that there are no restrictions on luggage and liquids like when flying. You can take all your hiking, diving and other equipment with you to explore Corsica at its best.
Sustainable travellers, what is the most environmentally friendly transport option for getting to Corsica?
As I told you on Instagram a few days ago for World Sustainable Travel Day, ferrying is more polluting than flying. Air travel is always represented as the most polluting mode of transport when looking at graphs dealing with CO2 consumption in this sector. However, ferries are rarely mentioned and after doing some research they are more polluting than planes for long distances.
But bear in mind that if you have to drive 300 km or more to get to the airport instead of a few kilometres to the port of Toulon or Marseille, then the CO2 impact can change considerably. In this case, the ferry may be your best option in terms of environmental impact. Even if it remains one of the most polluting means of transport and creates a huge ecological disaster in the Mediterranean sea.
I would like to take this opportunity to mention that if you want to know more about how to travel more consciously, we had created an article on this subject. Don't hesitate to have a look at it!
Travelling to Corsica with your pet

Perhaps you are in the same situation as us and are travelling with your pet. In this case, you should know that Corsica Ferries allows you to have your pet with you throughout the whole cruise. I'll tell you more in another article on this specific topic.
In the meantime, this is also a thing to consider when choosing which means of transport you wish to use to get to "Ile de Beauté".
Feel free to save this article on Pinterest to find it more easily when planning your trip!

---
I hope this article will be useful to you and help you to see more clearly how to get to Corsica according to your budget, your ecological impact and what seems to you the most practical. Feel free to leave a comment or send us an email if you need more information, I will be happy to answer!
Enjoy your holiday in one of the most beautiful places in Europe! 🍃