As you probably know by now we love food and, consequently, discovering new restaurants at home and around the world. So much that my main activity while I was living in Cape Town, was to test the culinary highlights of the city. In this article, you will find my opinion on the best places to eat in Cape Town.
Due to the historical context, Cape Town offers mouthwatering flavors from all around the world. Before moving there I never connected Cape Town with the great food hotspots of the world. Simply because it is not the first that comes to your mind and you think about Cape Town. But after living there for a while I would definitely put the city in the top five worldwide culinary hubs.
I was living there in 2017, so in the meantime, the covid crisis might have had an impact on the places that I describe below. So please, before going just quickly check if they are still open. I personally don't doubt it because of the great quality that each place provided. So without further due, let's start munching!
(This post contains affiliate links, which means I receive a certain percentage of a sale if you purchase after clicking.)
Where to taste the best local cuisine?
Bies Miellah
Whenever I arrive at a place I usually like to start discovering the local culture, by visiting places that offer local food. Bies Miellah is an institution in the Bo-Kaap, one of Cape Town's most beautiful neighborhoods (the one with the colorful houses). They offer a huge variety of Cape Malay dishes so that you can try all of them, for a very fair price. Maybe not the most instagrammable place, but great food is all that matters, right?
Cafe Charles
Cafe Charles is situated close to the Waterfront and every Monday had Cape Malay Monday, where you also had the chance to try a variety of cape Malay dishes. The best part about this place, after the food obviously, is their big rooftop which allows you to have amazing scenery while enjoying dinner.
Eastern Food Bazaar
This little hidden indoor food street is pretty popular in Cape Town. It is easy to understand why the Indian vendors sell delicious treats for a good price. Now you might think: "Indian in the local section?" But first, there is a huge Indian community in South Africa and second, they serve bunny chow a delicious local invention, of curry in a loaf of toast. I had you at toast, right?
Where to have the best breakfast in Cape Town?
Imhoff Farm

Was one of my most visited places in my time in Cape Town. It is not right in Cape Town but in Kommetjie, which has one of the best surf spots in South Africa around. So this was basically the place to be after a long surf session. The farm offers numerous little cafes and a fresh bakery that creates the yummiest delights you can imagine. And no matter where you are you will have a great view of the surrounding.
Hang ten Cafe
If you are a sweet tooth like me that wants to start your day with a sugary delight you should check out the Hang ten Cafe in Muizenberg. Also not right in Cape Town, but again perfect after your first surf lesson maybe?
Nourish'd
You are more one of those healthy people, that want to start the day right? Also good, so Nourish'd is the perfect place to be. When I was living there they had only a small smoothie and juice place, but it seems they expanded into 2 cafes, so they are definitely doing something right.
Where to enjoy the best lunch or dinner in Cape Town?
Codfather
Let's start big in this list. If you only have the time to go to one place, make it this one. Codfather for me is still the best seafood and sushi place in the entire world. After eating there you are ruined for future sushi restaurants. The fresh ingredients and amazingly skilled chef will ensure that you won't forget Cape Town that quickly. We recommended it to friends that were travelling to Cape Town. They went for dinner and before leaving booked a table for the last dinner of their holidays right after their flight back home. This is how great it is, everybody falls in love with this place.
Chefs Warehouse at Beau Constantia
Chefs Warehouse at Beau Constantia is the perfect place if you want a taste of Cape Towns' fine-dining world, without losing all of your money. Yes, it is more expensive than the usual restaurant but totally worth it. The open kitchen, the amazing food, and the entire place right next to the Table Mountains make this place a must-go on your list.
Babylonstoren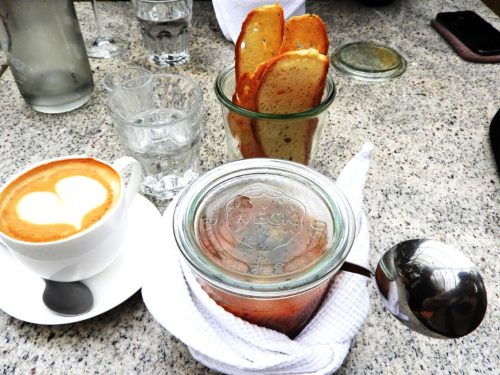 Did you know that South Africa is one of the best wine producers in the world? To get a taste of it you should definitely visit one of the many vineyards, like Babylonstoren. They not only produce delicious wine, but also exceptional food, which is why we came.
Bombay Bicycle Club
You enjoy good food, but the place that you eat in has to look like something too? Then Bombay Bicycle Club is your place to be. This entire place is just awesome. I would love to describe it more, but it is just a place that you have to experience yourself. More than just a dinner.
Tigers Milk
You love burgers? Say no more, just do yourself a favor and visit one of the branches in Cape Town. Their creations are just to die for. My personal favorite one? The one in Muizenberg, right at my favorite surf spot in Cape Town.
Live Bait
If you are already in the area. Live Bait used to be my favorite seafood place in Muizenberg. Now it has moved to Kalkbay, but I am sure they are still delivering first-class seafood and sushi, in a chilled ambiance.
Where can I eat the best desserts in Cape Town?
Unframed
Ok sweet tooths, are you ready for some ice cream? Okay, usually I don't try to build up expectations, but with this place, I am totally certain that they will blow your mind. Unframed is currently still the best ice cream I ever had and trust me I had a lot. My personal if they still have it: Seasalt Chocolate. To die for.
Honest Chocolate
Ice cream is still not enough for you and you need some more sugar? Head over to Honest Chocolate, they will treat you well. They are truly artists in what they do and a must-visit for everyone that loves chocolate. Try the brownie! P.S. If you like to drink, especially Gin, the back of the chocolate becomes one of the coolest bars in the entire Cape Town.
Do not miss the food markets in Cape Town
The Old Biscuit Mill
Yes, Cape Town does not only have amazing restaurants, but also plenty of food markets to chose from. Let's start with the Old Biscuit Mill. It is probably the biggest tourist spot after Table Mountain, but hey they have amazing food, so we still went regularly. From deep-fried MacNCheese Balls to huge steaks, to fresh smoothies and so much more. Do you have a picky group where everybody wants to eat something else? Go there!
Blue Bird Market
My personal favorite food market. Not only will you find even better food, but no it's also a much more local and chilled vibe than in the city. The market is a bit hidden in Muizenberg, so perfect once more after a sunset surf session.
Bay Harbour Market
Another great address if the Old Biscuit Mill should be too busy for you. Here again, you will find a huge variety of different, delicious food vendors, mixed with the locals this is a perfect spot to have something to eat.
Don't forget to pin it for later!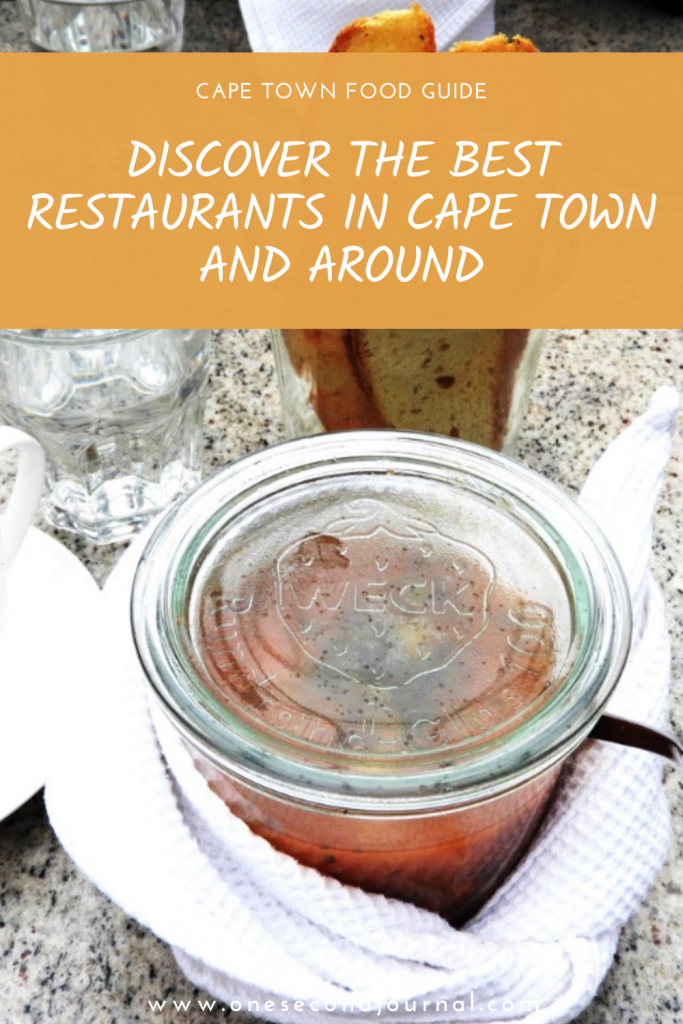 ---
Voila, this list actually ended up much longer than expected. But I just forgot how great the food in Cape Town is. If you love food this city should definitely be on your list. Also don't be afraid to stroll around, the food scene is super vibrant and changes all the time, so I am sure that until now more hidden gems opened their doors.
Bon appetit 🍃