Intro.
(This post contains affiliate links, which means I receive a certain percentage of a sale if you purchase after clicking.)
Mexico was our last trip before the COVID crisis started. We thought for a long time before picking a country and finally chose Mexico. I had two friends living there and I thought it's always nicer to discover a place when you have friends to show you around. So we traveled to Mexico City (find out more about how to visit this vibrant city in 3 days) and then flew to Cancun. We would have preferred to avoid flying again but unfortunately, our time was counted and it was not possible to do it differently.
If you read our last article about Yucatan, you already know that we decided to discover Yucatan, off the beaten path. Indeed, Cancun and Tulum were not on our list. Maybe we were wrong but we had the feeling those cities lost their authenticity and are now only crowded with tourists. Hotels complexes and restaurants for tourists everywhere, malls for tourists, attractions for tourists, etc. You can of course comment below if you think we are wrong and tell us your experience.
Therefore, we decided to leave Cancun straight away and started our off the beaten path 6 days itinerary in Yucatàn.
We discovered amazing places and rich local culture. Sites like Coba and Chitchén Itza were on our list and fortunately, we found ways to explore those magical Mayan ruins avoiding tourists which were so amazing. Also, we experienced some of the most beautiful landscapes we have ever seen. Among them, the laguna Bacalar. If one of my friends would travel to Yucatan I would badger him/her to Paddleboarding on Laguna Bacalar. Because for us, it was our best experience and memory in Yucatan. I truly believe it is the most sustainable and pleasant way to discover this place and I wouldn't do it differently.
---
Sunrise lights at the magic Laguna Bacalar

We woke up quite early during the all trip in Yucatan to be able to enjoy some of the most beautiful landscapes at its best. The day before we discovered Sian Ka'an Reserve at sunrise too. That day we explored Lake Bacalar.
In order not to drive too long to reach our meeting point, we booked a room in the hotel nearby. This accommodation was perfect to relax and had a great location to walk to the meeting point. I don't really like to say "meeting point" because you might think that it sounds like we're going to be a big group of people. But don't worry, we were not.
So we woke up around 5:30 and walked to Paul's house. Paul is Canadian and moved to Mexico 5 years ago. He is the lucky owner of what seems to be the perfect house. A beautiful wood house right in front of the lake Bacalar. We took this picture from his garden and the dock you can see belongs to him. I don't know about you but I think it is totally a dream house. Imagine waking up to this every morning. We got lucky to enjoy this view for one morning and we didn't want to leave anymore.
So we arrived there and met Paul. He told us we were waiting for another couple and that was it. It was going to be only 5 of us.
---
Sunrise Paddleboarding session on Laguna Bacalar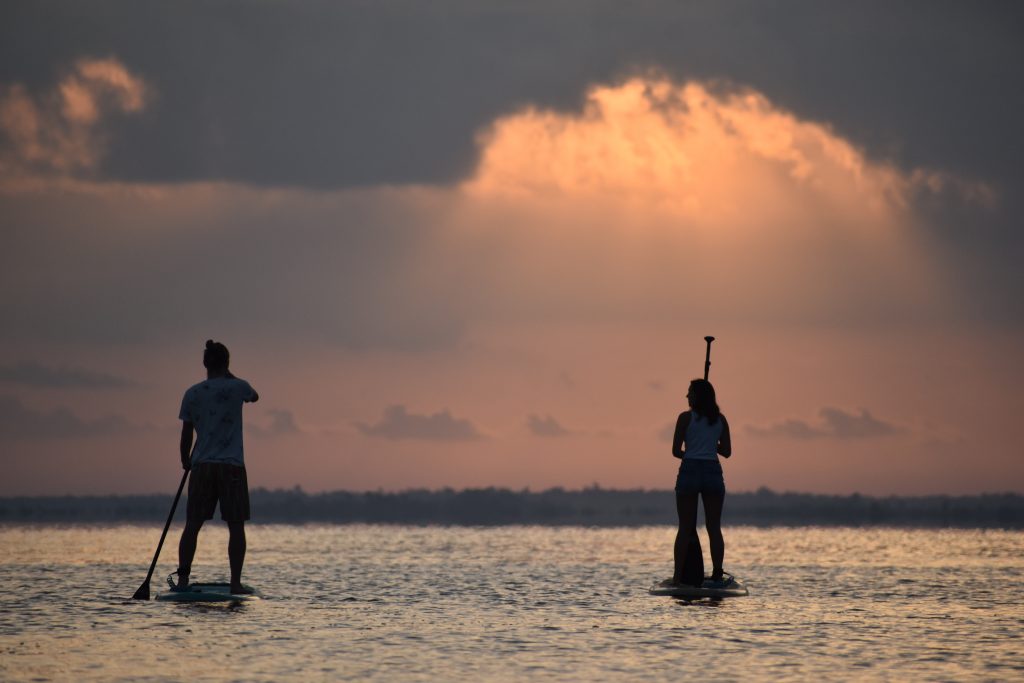 The memorable activity was now about to start. A Sunrise Paddleboarding session on Laguna Bacalar.
That is what I mean by the most sustainable and pleasant way to discover Laguna Bacalar. Most of the tours offer to explore this preserved area by boats. If you don't know what to expect and you care about the environment that might make you think twice about booking the tour. If you know what you are getting into, first you definitely don't want to be part of its damage by doing it with a polluting boat. Second, you know you will have such a more memorable and unique experience if you choose Stand Up Paddling. Paddleboarding is already a really cool activity but imagine doing it in such a beautiful and unique environment.
Paul explained to us everything we needed to know about SUP. Even though it was pretty quick as it is a really simple sport! Worse case you fall but I guess there is worse than falling in crystal clear freshwater and already 28 degrees outside at 6 am right? So we went on our boards and started paddling as the sun was starting to rise.
---
Peaceful moment of discovery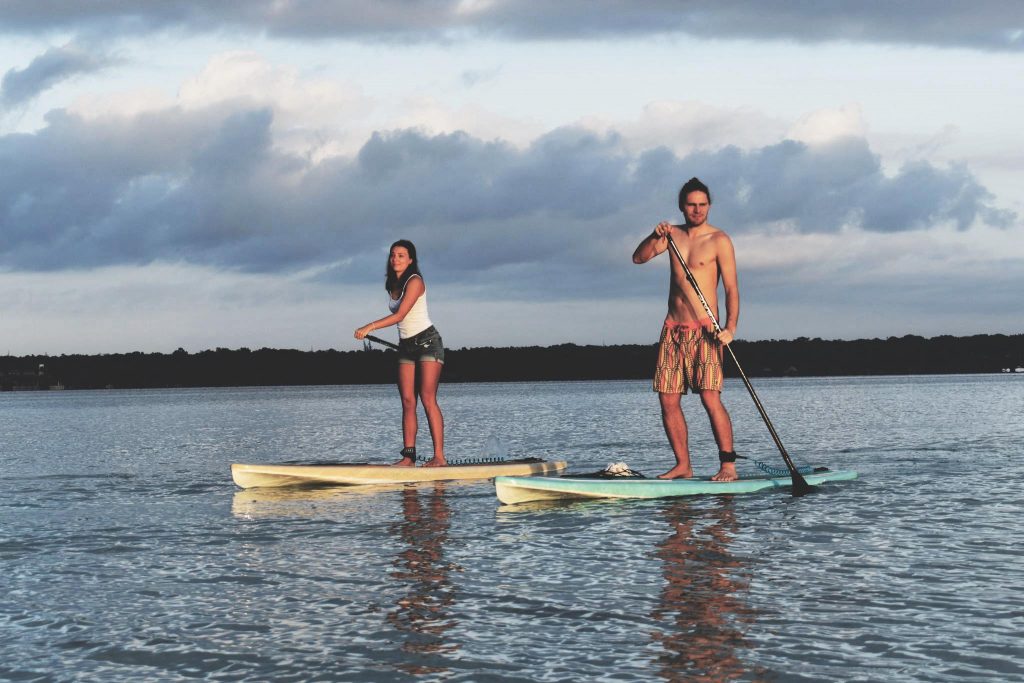 A few minutes later, we were gone and confident on our boards, hypnotized by the view in front of us. The setting of this place is made to be speechless. Really, in the first minutes, almost nobody was talking. Everyone was captivated by the silence of the early morning and the beauty of this moment. Paddling a little and then stopping to enjoy.
Do you start to understand why we believe it is the most sustainable and pleasant way to discover Laguna Bacalar? Wait, it's getting even better.
---
Sunrise Paddleboarding session on Laguna Bacalar:
A One Second moment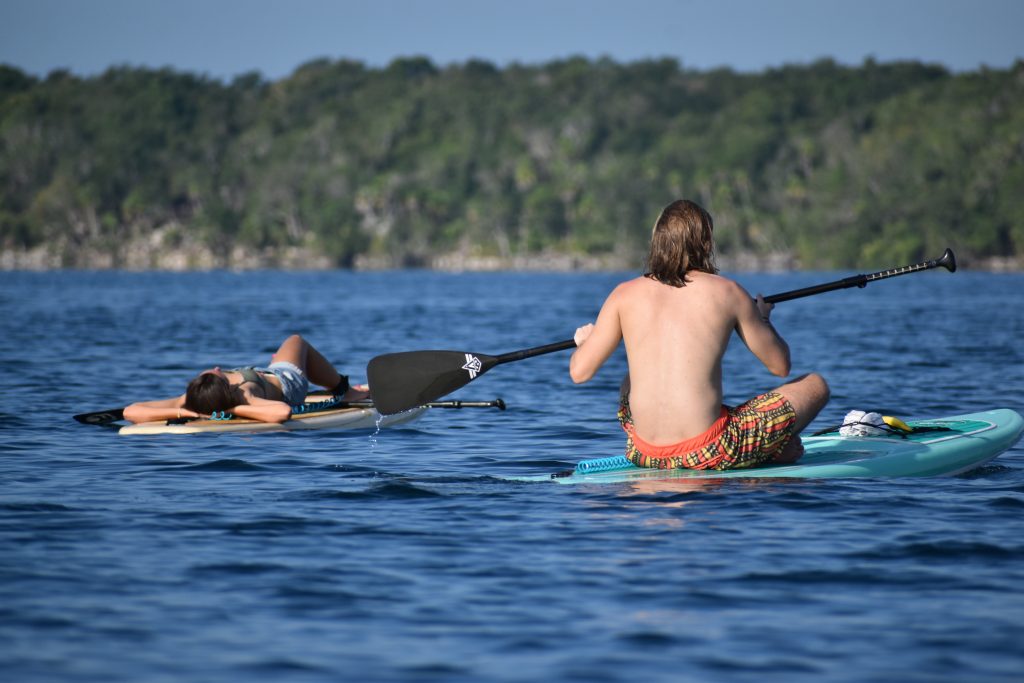 We kept paddling to arrive at another part of the lake where Paul took the time to give us some information about the fauna and flora surrounding us and knowledge about the area. For example, explaining why the lake is made of freshwater. It is because the lake is fed by one of the world's largest underground rivers systems. We were also able to ask him any questions we had about this unique place. For a little while, we stopped in between little canals where the water was 30cm deep and had a little snack that Paul took care to carry. Enjoying this moment while talking about everything and nothing, getting to know each other.
We then continue exploring around before to head back in the direction of Paul's house.
Oliver really wanted to dive in this crystal clear water and Paul took us to the perfect spot to do so. A spot where the water was a bit deeper as the laguna Bacalar can be quite shallow in some parts. After this little swim, Paul seeing that we were all enjoying the moment, gave us some time to soak in what we were experiencing. We all ended up laying on our board, eyes closed, relaxing, and enjoying this unique moment on the lake Bacalar. It was pure happiness.
---
Breakfast with a view
We headed back to the dock but I could have stayed there for hours. Paul's wife, who is Mexican, welcomed us with a nice "agua fresca" (a local drink made of hibiscus flowers). Then she invited us to enjoy the garden while breakfast was being prepared. I didn't even know we were going to have breakfast there so it was such a nice surprise. We could stay even longer in this paradise.
We enjoyed our delicious breakfast on the dock and soaked in the moment. Definitely a One Second moment as we describe it. We talked a bit longer with Paul and walked back to the hotel to get our car and drive to Mahahual.
---
Conclusion
We booked this activity through Evaneos, the company Oliver is working for. Evaneos concept is based on only working with local agencies. Concerning Yucatan, the agency is called Exxi and Paul is one of their partners.
Paddleboarding on Laguna Bacalar will remain my best souvenir in Yucatán. I cannot wait to discover more about this beautiful country. This first Mexican adventure was only the beginning of a long story. Like opening a book and reading only the first chapter, keeping the rest on hold.
What did you think about this article? Did it inspire you for your next trip? I really hope I convinced you to visit Paul and enjoy this activity with him because you would be missing out on a great experience if not.