Paulyne and I were one of the lucky ones that were able to travel abroad before this entire Corona mess started. Especially in a situation like this, we are now truly appreciating our times in Mexico. Traveling is such a big part of our identity that we can't wait to be on the road again.
Back in December 2019, we were thinking about where we should spend my (Oli) birthday. Bali, Jamaica, and Mexico were on the table. In the end, we decided to visit Paulyne's friends Jessica and Samantha who are currently living in Mexico City, to have the advantage of having some local guides that could show us all their favorite spots of this underestimated place. So this article will solely focus on our time together with them, exploring the vibrant city of Mexico City.
The capital of Mexico is often overlooked by tourists, who often only explore the Yucatan Peninsula of Mexico. Without our friends, we would probably have done the same, but luckily we didn't. The city has actually plenty to offer from delicious street food, vintage cars, artsy markets, urban art, and much more.
In the next few paragraphs, we will share with you the spots that we adored the most. Special thanks here again to our local guides, Samantha and Jessica, who introduced us to this marvelous city. Thank you, guys! Without further due, here our 3 days itinerary of Mexico City.

Day 1
We arrived by plane in the early morning, so after meeting Sam, our friend and host for the following days, we immediately wanted to get some delicious breakfast.
Jessica invited us for breakfast in one of her favorite spots Ojo de Agua in the district of La Condesa. We decided to walk there to start exploring the city and immediately found a little street food stand that was offering local cuisine… time for the first snack.
We highly recommend strolling around La Condesa, it was our favorite district, due to the vast amount of parks as well as the architecture.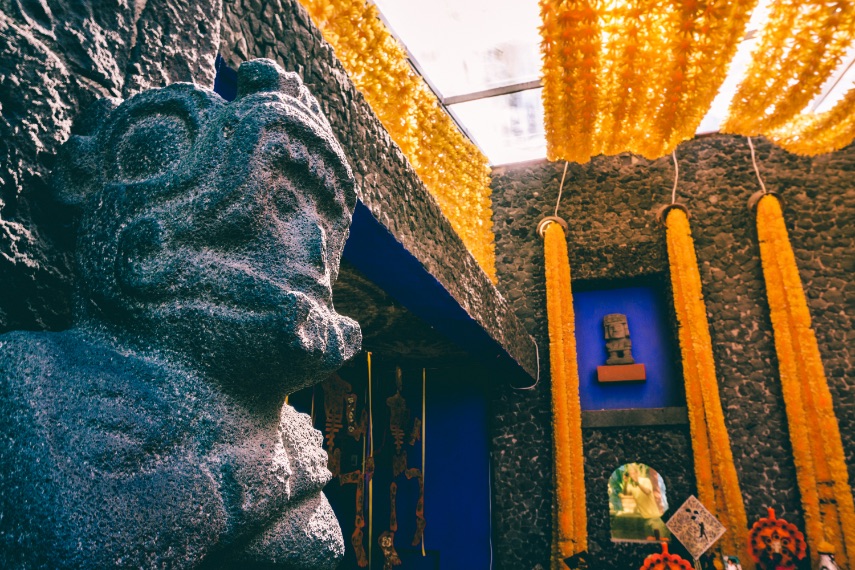 After filling our bellies with fresh juices and local breakfast we made our way to the former house of Frida Kahlo, which is now a museum. If you are a huge fan of her, it is obviously a must-see, unfortunately, there is not so much of her art displayed, but it is still nice to see how she lived and to know a bit more about her personal story.
Next, we kept on walking to Plaza Hidalgo, a vibrant square that is perfect to get a taste of the local vibes. So that's what we did, it was lunchtime. Obviously, I wanted to get my first taco so we went to Pepe Coyote.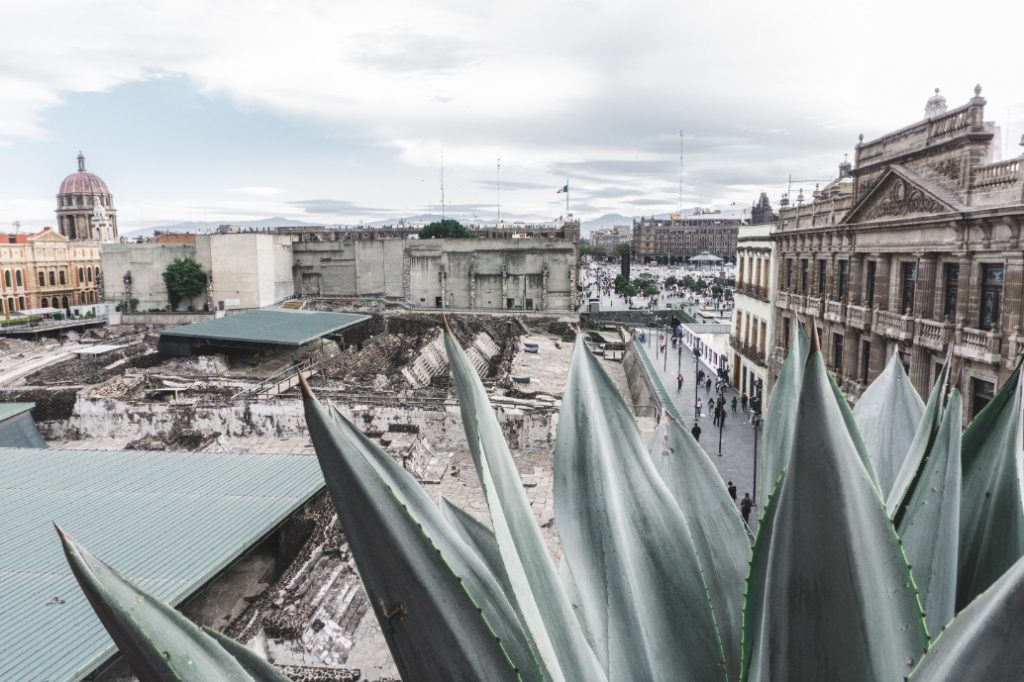 By then Sam's working day was over, so we decided to explore the ruins and main touristic monuments around Plaza de la Constitución and finish up on a rooftop bar called "El Mayor" that overlooked the historical sites. Enjoying the vibrant movements of the city, while the sun is setting behind the surrounding mountains, already a One Second moment.
Before going to sleep we decided to have a quick glimpse of the district called Roma, but our energy levels were low and the bellies too full, so we called it a day.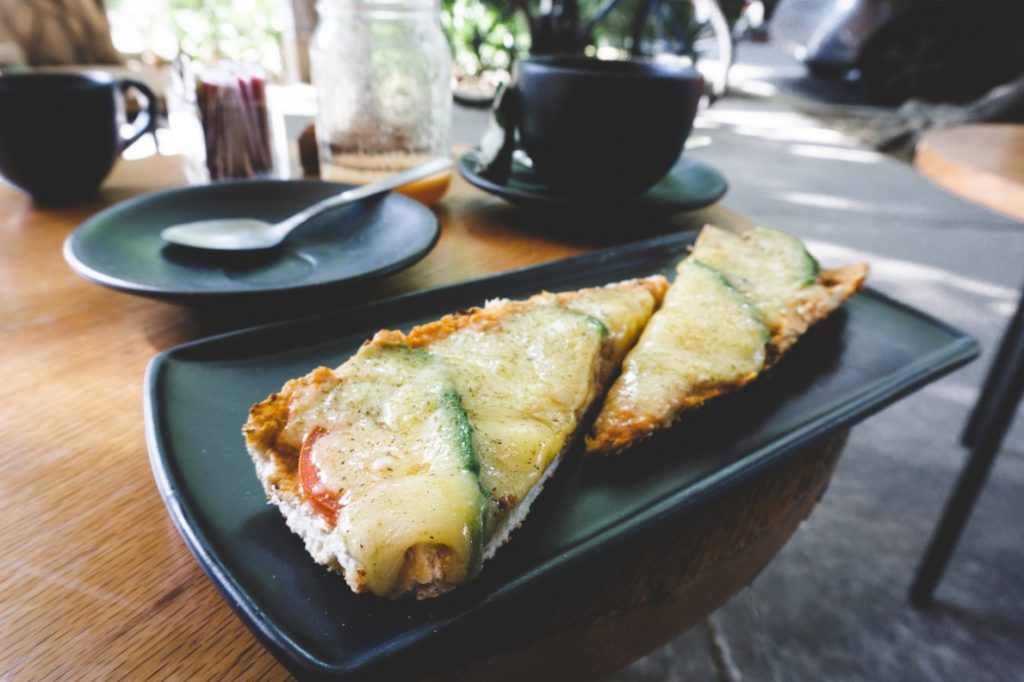 Day 2
Wake up and what is the first thing we have in mind? Breakfast of course! So we went back to our new favorite district La Condesa and sat down at Frutos Prohibidos. It's a franchise in Mexico, but a damn good one. Fresh juices and yummy food.

Like the day before we decided to stroll around the district and this time we found the perfect place to get some sweet dessert: El Moro. El Moro makes the best churros I ever had and trust me I had a lot. But for some reason, Paulyne said we have to continue: "We have to keep exploring". Only unwillingly I left my newly found love El Moro.

It was time for some culture and history. We wanted to learn more about Mexico and probably one of the best places to do that is the Museo Nacional de Antropologia. The museum is very modern and provides great insights into the rich history and culture of Mexico. We spent around 2 hours, but you could probably spend a week there.

We were still fit, so we decided to explore the surrounding park Chapultepec, before meeting Sam for lunch at another taco restaurant. "Taqueria Orinoco", is one of those places that you would never find, without a local friend. Somewhere, lost in the busy streets of Mexico City is this little gem. The tacos are to die for and their huge Aguas de frescas are incredibly refreshing.

Our batteries were full again, so Sam decided to show us one of her favorite districts: Santa Maria La Ribera. Truly local and we didn't see any tourists around. After a stroll around the district, we sat at Alameda del Kiosko Morisco and admired the local dancers. Before going for dinner we stopped by at Xuva' to sit down for a drink.

For dinner, Sam brought us Los Milagros, a food court that offers visitors delicious food from various Latin American countries. Our best surprise was a vegetarian ceviche. Yes, Vegetarian ! Paulyne still talks about it. This place has a great vibe, good music, and obviously delicious food.

Day 3
On our third day, we split up in the morning. Paulyne and Sam took a balloon ride over the Teotihuacan pyramids and I went to explore the streets of the Roma district. The district has plenty of urban art and interesting buildings, so perfect to capture a bit more pictures of the city. For lunch, I found a cool local market called Mercado Melchor Ocampo, where I tried to immerse myself a bit in the local life.

After lunch, it was time for dessert, so I convinced the girls to meet me at El Moro. Jackpot. We filled our bellies with churros and took a cab to the last district we wanted to explore: San Angel.

In San Angel you can visit another house of Frida Kahlo and Diego Rivera and explore the Bazaar Sabado and the surrounding markets, to get some local crafts. We also found this little brand Someone Somewhere, that combines modern design with local craftsmanship. We definitely recommend you to check it out. Click here if you are interested to know more about it. The small alleys and local vibes make San Angel a district that you definitely shouldn't miss.

For our last dinner in Mexico City we all went together to La Pitahaya, a delicious vegan taqueria in Roma. Now it was time to say goodbye because Yucatan was calling, but more about this adventure another time.
---
Mexico City is often overlooked by many visitors, but after having the chance to see this colorful city, we would highly recommend you to stop by for 2-3 days to explore this unique metropolis.
We hope that this article will help you a bit to plan your next Mexico holiday and Mexico City visit. If you have any questions or want to share your favorite spots in Mexico City, please share them below! As always you can find the restaurants we have been to on our Mapstr account. So enjoy exploring Mexico City!
Do you have any tips to give us for this trip ? Any feedback about this article ? Comment below !