Intro
I could have also called this article "One night in Dotonbori". Because I only spent a few hours there and discovered it by night. Nevertheless, it is one of my most intense memories of Japan. My first time in this country, only for 30h, on a layover with my previous airline, so I had to make the most out of it.
---

Japanese flight as a Flight Attendant
The first words that come to my mind when I think about Japan are : tradition, modernity, culture, curiosity, food (of course) and landscape.
When Osaka appeared on my roster (as cabin crew you get a schedule with your flights once a month for the next month), I was over the moon.
The departure was in the middle of the night but it didn't matter because I couldn't sleep before this flight anyway. I was too excited about the flight because Japanese customers are very different from other customers.
We even got specific training for those flights, the service and the food we delivered was also specific to this flight. At that time , I used to work in Business Class and I kept asking my Japanese colleagues how to behave correctly in order to respect cultural rules and deliver an outstanding customer experience to our Japanese passengers.
---
Let's discover Japan!
11 flying hours later. Landing in Osaka airport and my duty was over. I was finally in Japan for the first time. With the time difference between Dubai and Osaka, it was already the end of the day there, and after such a flight, all the crew were quite tired and usually would have just relaxed. This time, we were all in the same mood : "Let's discover Japan!"
We changed into fresh clothes and headed to Dotonbori, a famous street along the Dotonbori canal.

First impression
When I got out of the taxi I was like a kid in front of a Christmas tree.
This area was exactly how I imagined it, vibrant, busy, colourful, unique and I just couldn't stop looking everywhere with big open eyes.
My One Second in Japan.

Vibrant neighborhood
Now looking back, it looks a bit like Times Square in New York except that the buildings are not that high; but the atmosphere is quite similar, especially with all those big and colorful advertising screens.
It must be an entire different feeling during the day, but at that moment, there were mostly families and groups of friends chilling after work. Some groups of young friends were all dressed up in this stereotypical cute style.
Within a few minutes we were totally soaked into this magical vibrant culture. In my opinion, it is the perfect place to end the day.
Unfortunately, due to our late arrival and limited time, it was getting late and we had to be a bit in a hurry. We looked for a place where we could have a nice local dinner as we all agreed that it had to be local cuisine : Okonomiyaki & Takoyaki.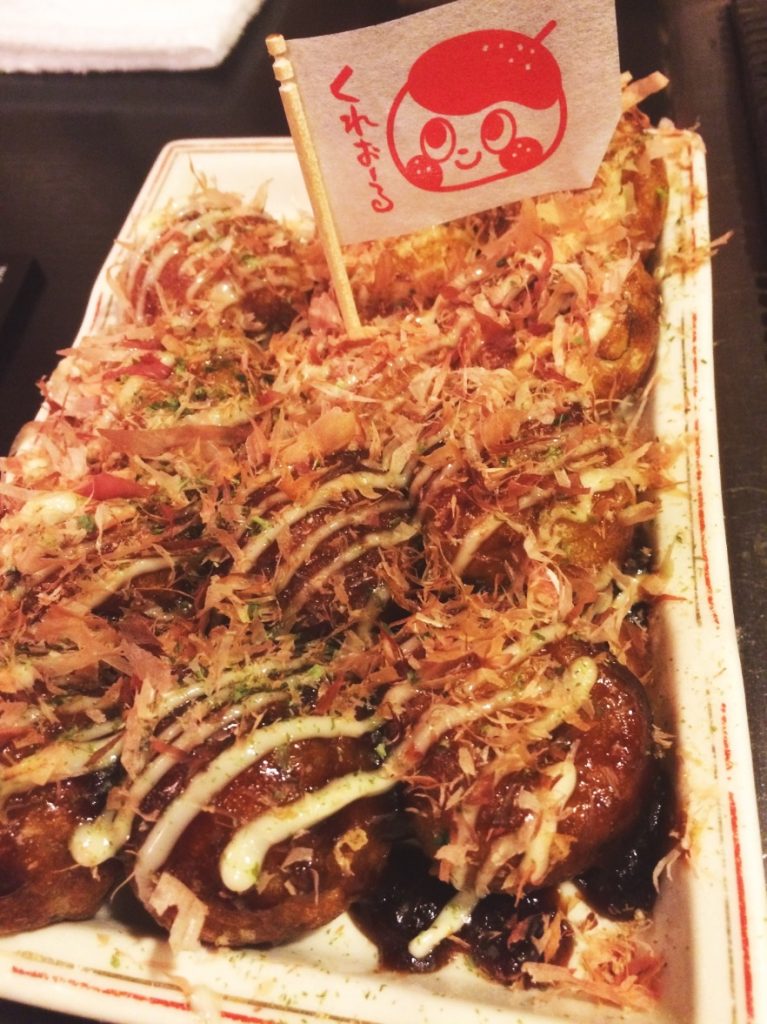 Okonomiyaki & Takoyaki
Okonomiyaki are often described as savoury pancakes. It is a mix of different ingredients cut into small pieces and mixed with wheat flour and cabbage base. The ingredients can vary a lot, it could be meat, seafood, cheese or veggies.
Takoyaki comes originally from Osaka and is now known worldwide, I am sure that if you like Japanese cuisine you've already seen it before. It is a ball shaped appetizer, traditionally cooked with octopus ("tako" means "octopus" in japanese) in a special molded pan.
You will see a lot of little stands in Dotonbori where locals make them in front of you in the traditional way.

Follow the locals
If you get the chance to go to Dotonbori you will see that tons of options will be offered to you in terms of food. It goes from big Western food chains to little local restaurants and street food stands.
We had a really long day so it was a no brainer for us, we wanted to rest a bit and sit all together.
We entered a very traditional restaurant on the main street, I'm sorry I didn't write down the name and it does not appear on my pictures. However, I am sure you'll have no problem finding a great place with delicious local dishes. Little foodie tip from my side : Follow the locals or just ask them in the street !
---

Let's kick the next day
But unfortunately my time in Dotonbori came to an end as we had to drive back to our hotel in order to get a well deserved good night sleep and kick the next day in Kyoto !
---
Oliver and I were planning to visit Japan this next September. With the current health crisis that we all have to face, we have to postpone it. Nevertheless, Dotonbori is a place that I want Oliver to see when we will finally explore this country together. I want him to experience this vibrant part of the city and its yummy street food. Also, I am hoping for more time to visit the rest of Osaka.
Do you have any tips to give us for this trip ? Any feedback about this article ? Comment below !