I only went to Kyoto on a layover of 24 hours, however, I got the chance to have a Japanese colleague, Akina, that offered to take us on a tour there and be our "guide" for the day. Japan is a country that awakes my curiosity and having a local person by my side was a chance to give me a deeper approach of her country and her culture.
We were staying in a hotel in Osaka and drove by train to Kyoto. When we arrived I had the feeling to be in another world, the traditional and old Japan like you imagine it. Indeed, Kyoto is the third largest city but also one of the oldest. In addition, Kyoto is the home of Geishas and Kamishichiken is the oldest Geisha district.
---

Dressing up like a Geisha
The more we walked into the city and towards Fushimi Inari Taisha and Kyoto Imperial Palace, the more we saw people (locals and tourists) dressed up with kimonos. Akina explained to us that you can buy (new or second-hand) or rent kimonos. You can also get a geisha makeover for a more unique experience.
I chose the first option as my time was limited. It can actually be quite frustrating to be in such an amazing and mysterious country and have only a few hours to visit it. Therefore I wanted to see as much as possible. We entered a shop and I bought a second-hand kimono as well as a hair ornament. I was not convinced about my ability to walk with pokkuri-geta, the traditional sandals, so I gave up on this idea.
All dressed up, we continued our visit through the little streets of Kyoto.

The life of a Geisha
I soon realised that people were having high respect for geishas. Becoming and being a geisha is not something easy and is a choice you make for the rest of your life. In the old days, parents were sending their daughters to okiyas but nowadays it is different.
When you train to be a geisha, you are not allowed to use your mobile phone or watch TV, you do not have free time with friends or family except twice or three times a year. It is hard. You have to be committed.
For these reasons, Kamishichiken only receives a few applications per year and it is difficult for this industry to survive the modernity of our world even though they try to adapt and find the right balance between tradition and the changes of our fast changing world.
Being a Geisha is definitely not easy, it is a closed world that requires sacrifices. Nevertheless, in a country where inequality between sexes is quite high, the Geisha industry is successfully run by women.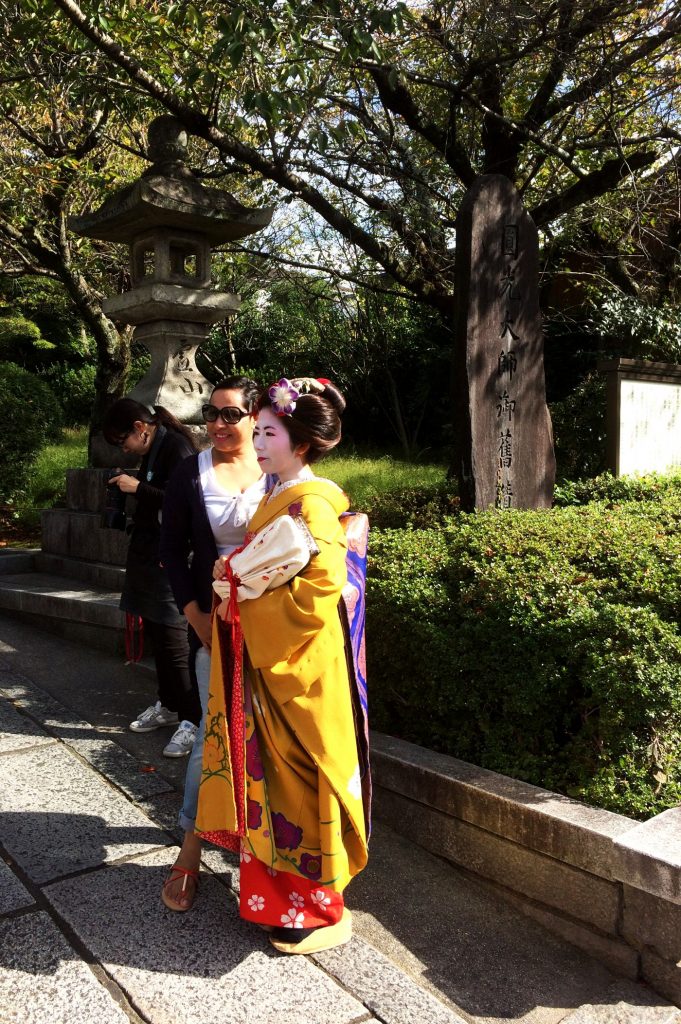 Geiko
I am saying "Geisha" since the beginning of this article as it is the most common name for those women. However, in Kyoto, unlike in any other part of Japan, they are called "Geiko". Also, the young women who are still in their years of apprenticeship are called "Maiko".

A closed world
Something else you should know before travelling to Kyoto and planning your Geisha experience is that you cannot just enter an ochaya or okiya (house to which a Geisha is affiliated to, her name is always mentioned on a sign next to the door of the okiya). Traditionally, you need an invitation.
Even though this practice led to the decline of the industry over the last decades, this code of conduct is stricfully respected in Kyoto. However, to adapt and maintain this industry, you now have Geiko consultants that are in charge of introducing the tourists to the Geikos in order to respect the tradition.
What do you think about it ? In my opinion, it is great. When I visit a country I am looking for a genuine experience and not a tourist trap. If it requires a bit more effort or money to experience a unique and genuine encounter with local people then I'm in, and encourage this practice.
As you probably realise, the world of Geishas is full of rules and traditions and I didn't cover half of it. I still have a lot to see and learn about Japan and we hope to travel to this wonderful place very soon.
---

We will be happy to share with you about it so do not hesitate to comment below. Tell us if you like this article and about your experience, we will be happy to hear from you !