Costa Rica is an amazing country for travellers that love adventures and wildlife. I visited the West part with a friend of mine and having only a few days to discover Costa Rica (or at least a part of it), we needed to plan ahead. This resulted to be not an easy thing to do as there are so many places to see and visit. So here are a few itinerary ideas for an 8 days trip from San José to Manuel Antonio National Park and back to San Jose. If you take an international flight you will probably land at this airport. My friend arrived from Mexico City and I arrived from Paris and we both landed there.
I arrived really late so we decided to spend a night in San José, the capital, and then head to our first stop, the Arenal volcano. That was our initial plan. However, my suitcase got lost in Paris so we had to wait for it before starting our trip. Instead of leaving the next day, we left 2 days later but in your case, fingers crossed the same doesn't happen to you, you can plan to leave San Jose the next day you arrived
Infos: The airport is a bit outside of the city so you will need to get a taxi to get to your accommodation or maybe your accommodation will provide a shuttle.
Also, we stayed at Selina's hotels all along. I will give you the link to each of them throughout the article.
(This post contains affiliate links, which means I receive a certain percentage of a sale if you purchase after clicking.)
---
San José – Arenal National Park
Drive from San José to La Fortuna

Trip cost and duration:
San José – La Fortuna: 3000 colones/4 euros/4.8 USD
4 hours
Accommodation: Selina La Fortuna
Located in the North West of San José, the closest city to the Arenal National Park is La Fortuna. This is where we stayed. As mentioned above we stayed at the Selina's and this one was one of the best so obviously I highly recommend it.
The Arenal volcano is one of the rare volcanos to have such a symmetrical conic form. It almost looks unreal and you can spend hours admiring its beauty. It was also for a long time one of the most active volcanoes in the world. However, there has not been any eruption since 2010. However, you can be lucky and get the chance to see some smoke at the top!
There will be so many activities you can do when you will explore this area. From hot springs to waterfalls and from ziplining to hiking. We chose the last option. There are different hiking paths you can take according to your level and what you want to see. Do your research before and make it clear with your driver about where you want him to drop you off.
To reach your destination, you have different options but be aware that Uber drives are cheaper than taxis but they are not legal in Costa Rica. Something to keep in mind.
Sendero el Ceibo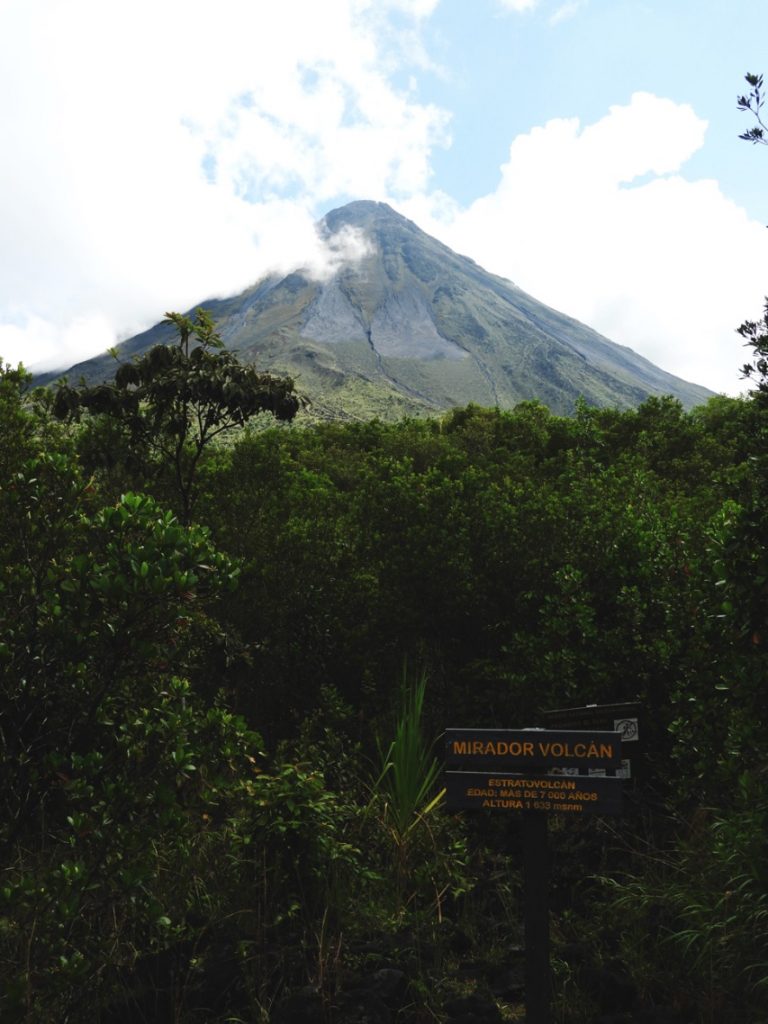 We initially planned to be dropped off at the entrance of the Observatory Lodge. But our driver didn't understand this and dropped us at the entrance of the Sendero El Ceibo trail. We only realized a few minutes after the beginning of the hike when we found a map with names we couldn't recall. As it was low season there was almost nobody and by the time we realized it was too late to wait for another taxi and drive somewhere else. On top of that, we already paid for the entrance so there was no point in leaving.
It is quite an easy trail and will give you a sumptuous view of the Arenal volcano. It is so rewarding to arrive at the mirador and have this perfect symmetrical giant in front of you. On top of that, you can observe wildlife all the way from and to the entrance. It was so amazing to observe this new environment with its luxurious vegetation and listen to the nature around you.
---
El Chato or Cerro Chato trail

Entrance: free
As el Sendero el Ceibo is quite a quick trail to do, we decided to walk to el Chato Volcano. Actually, we would have liked to get a taxi and go there by car but there was none around so we didn't really have a choice… Luckily, at some point on our way, a nice local accepted to drive us to the entrance!
El Chato Volcano is not as famous as the Arenal but as worth it. The end of the trail is "officially" close but so many people still venture to arrive at the crater where the beautiful green lagoon stands. I have to admit, we tried as well. We couldn't finish as the end of the trail is not marked properly and some parts are quite dangerous to hike. No rope in really steep inclines and declines will make your way quite challenging. For this reason, I will definitely not recommend it with kids as well as if you're not an experienced hiker.
However, you can still do like we did and discover the first part of the track. You will enjoy a beautiful view of the Arenal Volcano and also be able to observe plenty of wildlife. Our highlights of the day were coatis and a toucan!
After this long day full of adventures, we headed back to La Fortuna and enjoyed a delicious vegetarian meal at Orgánico. It is so easy to eat healthy and veggie in Costa Rica. It is a paradise for people who love yummy healthy food!
That was it for the day and we enjoyed a calm evening at the Selina. The next morning there will be an early wake up in order to drive (bus/boat/bus) to Monteverde.
---
La Fortuna – Monteverde
Drive from Monteverde to Manual Antonio
Trip cost and duration:
Jeep/Boat/Jeep: 20 euros/25 USD
3.5 hours
Accommodation: Selina Monteverde


There are different ways to go from La Fortuna to Monteverde. One of them is to book a shuttle. A lot of hotels are providing this service but it is quite expensive so it depends on your budget. Some people do it by car but if you rent a car, keep in mind that it is not an easy smooth road.
Another option is public transport. We opted for this one and more particularly the jeep/boat/jeep option. The Arenal Lake is really big, 85 square kilometers, it is the largest lake in Costa Rica. For this reason, driving around it takes a lot of time. Taking the boat to shorten the trip is a great compromise. On top of that, you can enjoy the view of the volcano from the lake if it is not too cloudy which can be really beautiful!
The trip from La Fortuna to Monteverde was 4 hours long in total.
If you like to use your time as much as possible to visit and explore, I recommend you book a tour in advance for the afternoon as you will arrive around lunchtime and the tours are departing around 1:30/2pm.
We were more about a compromise between chilling and discovering so we chose to have lunch and then see. It was then too late to leave for a tour so we enjoyed the activities offered by the Selina in Monteverde. They offer a really cozy commonplace with a fireplace, music, and different games. But you can also book a sloth yoga class or enjoy the jacouzi.
Monteverde Cloud Forest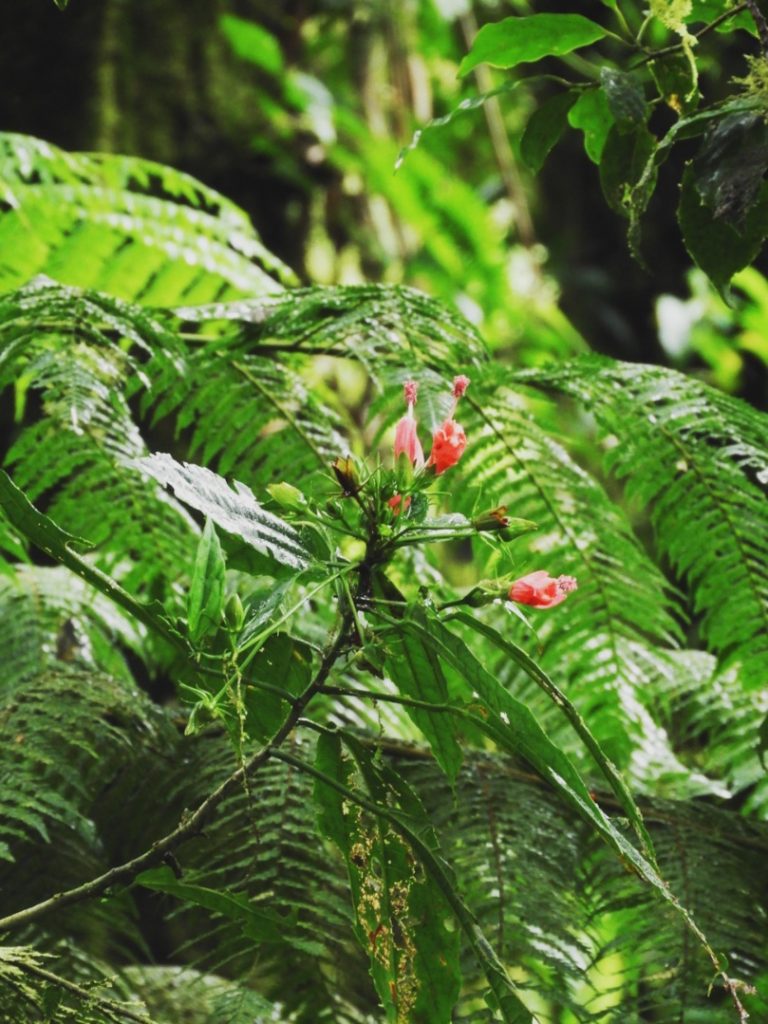 Monteverde Cloud Forest entrance: 50 USD (+ local guide)
Canopy tour: 20USD
We woke up early the next day to meet our guide who will help us to discover this magical place that is the Monteverde Cloud Forest. You can explore this place by yourself but I highly recommend you book a tour with a local guide. Find out why in this article specific to Monteverde.
In the afternoon, we got the chance to discover this place from above as we enjoyed a canopy tour above the Cloud Forest. Again, I tell you more about it (price, duration, transport) in this article where I share this incredible experience.

---
Monteverde – Manuel Antonio
Drive from Monteverde to Manuel Antonio
Trip cost and duration
From Selina Monteverde to Selina Manuel Antonio : 47.60 euros/57 USD
5 hours
Accommodation: Selina Manuel Antonio

Another long morning drive, 4 hours ½. This time we booked a shuttle with Selina, it was the most convenient option for us. Our driver was so nice and didn't mind stopping to show us some panoramic views or even wildlife like those beautiful parrots (scarlet macaws) that you can see in the picture.
We arrived at the next Selina in Manuel Antonio in the middle of the day. For the first time, I was quite disappointed by the place as in comparison to the other Selinas we stayed in the previous days, this one was not well maintained and old. However, the location was perfect for the price. It was only half an hour by walk to the entrance of the Manuel Antonio National Park. But also, there was a bus stop right next to it where you could get a drive to the entrance for only 335 colones (0,45 euros/0,54USD).
Manuel Antonio National Park


If you choose to do an itinerary similar to this one during the low season like us, you might get used to being alone wherever you will go. It is actually one of the advantages of traveling somewhere during the low season. However, Manuel Antonio was a bit more crowded than the rest of the places we visited. It felt a bit weird after all those quiet days in nature. You also see that it is more touristy as the infrastructures are more developed and you will even see a souvenir shop in the park. Something we haven't seen so far.
Manuel Antonio National Park is a great place to spend the day both discovering the Costa Rican wildlife (white-headed capuchin monkeys, howler monkeys, sloths, birds, etc) as well as chilling on the beach. That's what we did, we first walked around the park and discovered amazing views and animals.
The goal of the day was to find sloths. They are actually pretty hard to find as they are nocturnal animals and usually stay really high in the trees during the day. Their slowness helps though as they barely move at all during the day.
Fun fact that our local guide in Monteverde told us: male sloths usually live in the same tree all their life and don't go anywhere else!
We finally found one and our day was complete! However, we got pretty lucky as when we left the park it was already quite late and while walking along the beach of Manuel Antonio (outside the park), a local told us to wait. A sloth was coming every evening to stretch a bit along with the electricity cables! So that's what we did and it really came. It was super to see it "in action"! So, note to yourself: it is worth it to wait for sunset and check above your head!
---
Manuel Antonio – San José
Trip cost and duration
Manuel Antonio – Quepos: 250 colones/0,35 euros/0,40USD
Quepos – San José: 3000-6000 colones/ 4-8 euros/4,80-9,60 USD
2.5 hours
Accommodation: Selina San José
It was now time to drive back to the capital, San José, and to leave this amazing country. We chose to head back by public bus as it was cheaper and convenient. In order to do this, you will need to head to the main bus station in Quepos. This is less than a 10mn drive by taxi or bus. Once in Quepos, you can buy your bus ticket directly at the bus station. You should check the bus schedule before in order to manage your time and not wait too long for the next bus to come.
---
Hopefully, this article has inspired you if you are planning to visit Costa Rica. People seeking adventure, nature, and wildlife, this country should definitely be on your travel bucket list.
If you would like more information, please leave us a comment. You can also contact us directly by email or on our social networks and we'll get back to you as soon as possible.