What's better than writing an article about my favorite food gems in Montreal while drinking a tasty latte in one of them? Nothing! So I take this opportunity to finally write this article that I hope will help you when you are looking for a great place to eat in Montreal.
The city stole my heart right from the beginning. Thanks to my job, I came here for the first time in summer 2018, and I have been coming here regularly since then. The two main reasons why I love Montreal so much are not about the city itself but more about the locals, the vibe and the food.
People.
A friendly and enjoyable place to discover
Social contact is really important for me, as I said, I am currently writing this article in a nice coffee shop called GAB. I hate being alone and I need social contact, Montreal is definitely a place that provide this. People are so easy-going and chilled, you always feel welcome.
The cool thing about this city is that you can either speak French or English because they are perfectly fluent in both. So even for our French readers that are planning to travel to Montreal, don't worry about the language barrier you'll be fine!
Things to know when you come to Montreal (for Frenchies mostly)
One more point for the Frenchies, here everybody says "tu" to everybody, so do not get offended and do not hesitate to do the same.
As well, in France, we say "bonjour" to say "hello" in Montreal it's going to be "Salut!"
Food.
As you all know by now my motto is : "Food is life"!
Honestly, if I don't eat yummy food while travelling then my trip is not complete. Montreal is a blast when it comes to food and that's why this article is dedicated to my favorite places to eat here. From coffee shops to restaurants, I share with you all my must-go while visiting Montreal.
---

L'anticafé
You may have heard of this kind of places. It is different from the other cafés where you pay for what you consume. This café is a place to read, work, chill with friends, and you pay for time you stay.
You register on a computer when you arrive and then stay as long as you want. If you want to get comfortable like at home, they have some slippers so you can remove your shoes and enjoy. The place is divided into several different rooms for more or less intimacy and you will find the kitchen in the middle. Sweet and Savoury are on a table and you also have drinks. If you want anything specific like a cappuccino or a latte, a person is always available to do it for you.
Again, this is a place to meet your friends but also perfect if you don't want to work alone at home. Everything is designed to make you feel at home.
Eva B
You HAVE to visit this place! Not only for the food but also if you are looking for the Montreal magic vibe. It is the biggest vintage shop in the city. Here you will find three floors that are packed with clothes, shoes, accessories and other things.
I usually have a look around and then have lunch there. They have all kinds of toats, soups, wraps, pies, etc. and drinks for a really affordable price. For the sweet tooth, you will find your heaven there as well 😉
You can eat inside or outside and have different terrasses, the tables are not packed which is really enjoyable too.
You will definitely get the Montreal vibe going there and little extra: They give you free popcorn when you enter the shop, shopping while eating popcorn, isn't that cool?
Le vieux vélo.
If you go to Montreal you will probably go for a visit of the famous market called Jean Talon. There are plenty of cool places to have lunch, brunch or just a coffee in this area.
I had a brunch at Le Vieux Vélo and I definitely recommend it to you. It can be a bit busy and you might have to wait for a bit but the food is totally worth it. I am trying to be vegetarian as much as I can so for those of you who wonder, there are also vegetarian options like in almost every restaurant in Montreal.

Le Melbourne Café
I am writing this article from here today and I will definitely come back here. They totally manage to give to Australian spirit to the café, mainly by decorating with Aboriginal paintings all around. You might think " I am not going to Montreal to have a brunch in an Aussie place", fair enough. However, the food is delicious and tasty so I still recommend you to stop by if you are in the area.
I ordered the avocado toast and a latte and both were super nice!
Located on the Saint Laurent Blvd, you will probably pass it while visiting this part of the city, so do not hesitate to try this one !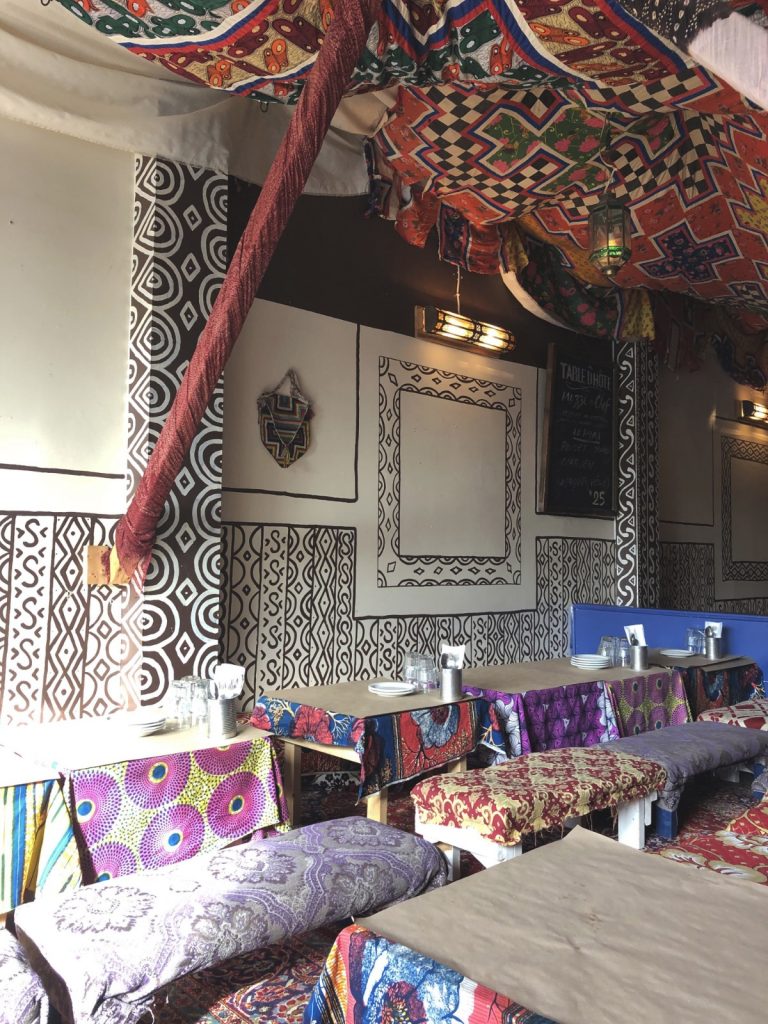 La Khaima
Maybe you are also in Montreal for a few weeks or months and looking for something totally different from the previous addresses? Then you should go to this place.
My friend who was living here drove me there and it was amazing. La Khaima is located in Mile End and is a Mauritanian restaurant run by a truly friendly family.
The cuisine is a nomad and homemade cuisine, the place is charming and traditional. Here don't expect to be sitting on a chair around a table. You are on the floor, you remove your shoes at the entrance and if you want you to eat with your hands. The hummus was delicious!

Lov
We are reaching another level with this restaurant. I wish I would have been there before because now I'm not coming back in Montreal for a few months. I can't wait to go back there!
If you google it you will read that it is a vegan and vegetarian restaurant and, if you are a meat eater, you might think it is not a place for you. However, first, being a meat eater does not mean that you can't like a dish without meat, second, you will miss out on something if you don't go for this reason.
When I entered I thought " Omg that's gonna be an expensive one!" Sophisticated decoration, somebody to welcome you when you arrive, chic atmosphere, everything was pointed in that direction. In the end, it was not that expensive, I would say the prices were moderate for Montreal.
On top of that, the quality of the products is at the top and the food is really tasty. You will find a large variety of international dishes like salads, burgers, toast, pasta, etc. I ate the Caviar and truffle dish which was zucchini spaghetti with salad, oyster mushrooms and truffle sauce. Yummy !
---
I hope this article will help you during your visit to this amazing city. Like usual, we are happy to get your feedback, recommendations and share with you so don't hesitate to comment!

Also do not forget our Mapstr account if you are looking for more addresses!
Bon appetit!
---