Cape Town is probably one of the best metropolitan cities to hike, due to the various options within and around the city. My favorite was by far to hike the majestic Table Mountain. The mountain are 1085 meters high, famous for their unique shape and the "table cloth" of clouds. A legend tells that these passing clouds, which slowly move on top of the mountains, are the result of a smoking contest between the devil and a local pirate called Van Hunks. Definitely, a more exciting explanation than the scientific one if you ask me.
Getting to the top will take you a bit longer than the Lion's Head but it is unquestionably more rewarding. Most visitors take the cableway to reach the top, but I would advise every person, that is still capable of sports activities, to hike to the top. It is just more satisfying if you know you just climbed this whole way up. There are also always plenty of beautiful spots to stop for a water break that will make your exertions worthwhile. If hiking is not your sport, take a look here, what other sports you can do in Cape Town.
There are various ways to the top for different experience levels, ranging from 2-5 hours hikes. Below you will find my favorite one. As long as the weather is good and it is not too windy the cable car will be operating. Nevertheless, you should always keep enough energy to make your way down again in case that they don't operate.

Before starting your hike you should always check the following criteria:
How is the weather forecast?It can be quite harsh on top of the mountains and as mentioned before the wind has a direct impact on your way down. So better check before you start your adventure. Just because it is sunny and warm at the bottom doesn't mean you will find the same temperatures on top. We made the mistake once, trust me it was not that comfortable.
Is someone accompanying you?There are always plenty of things that can happen on a hike, so in order to be safe, it is crucial that somebody joins you. In the end, it will also be more fun to enjoy the magnificent view together.
Do you have plenty of water? The hikes vary in their severity but you somehow have to get on top of these mountains so water is desperately needed.
Do I have the right equipment? Most routes are in good conditions so you won't need special equipment, but if you have some hiking boots better make use of them.

Skeleton Gorge Hike
The most beautiful hiking trail that I encountered during my time in Cape Town was the Skeleton Gorge Hike. The trek starts in the beautiful Kirstenbosch Gardens and finishes at the cable car. It will roughly take you 3.5 hours, but can also last for 5 hours if you plan to take pictures and take your time.
The hike is definitely not the easiest one but manageable for active people. Most of the walk is actually quite easy, but at one point you will find yourself climbing up a parched water creek. This makes hiking the Table Mountain more fun but also more challenging for people that are not used to these kinds of activities.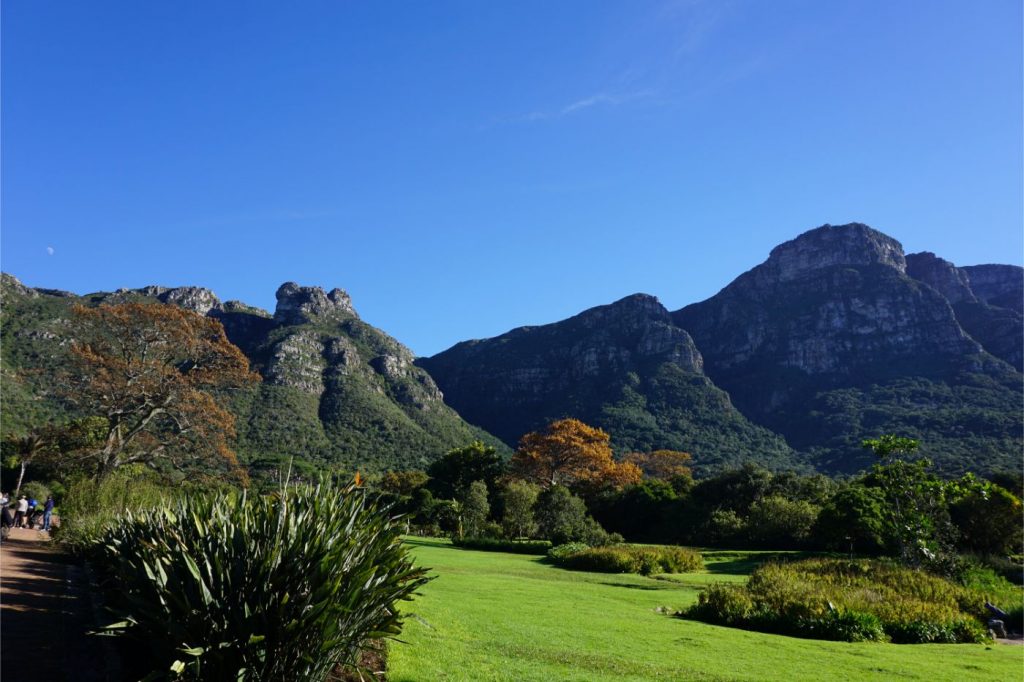 Arriving at Kirstenbosch Botanical Gardens
The Kirstenbosch Botanical Gardens can be easily reached in 15 minutes with an Uber from the city center. Arriving there you will have to pay 70 Rand (≈5€) for the entry to the gardens but it will be worth it. In this, more than one hundred-year-old gardens, you will find numerous endemic plants from South Africa and the Western Cape. A perfect place, for every nature lover or hobby botanist.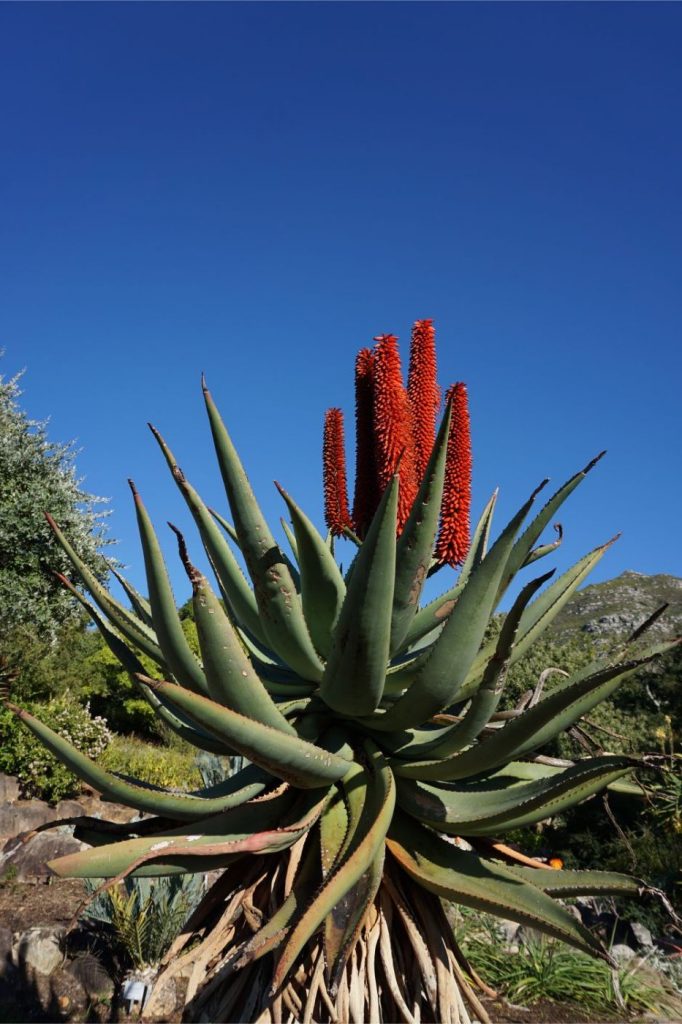 Due to the fact that I am personally more of a nature boy than city enthusiast, the gardens represented my quiet place whenever I wanted to get away from the city life or when there were no waves to surf. Since my time in Australia, I fell in love with the concept of Botanical Gardens, because they give cities an entirely different flair and create a great communal space for people that just want to get out.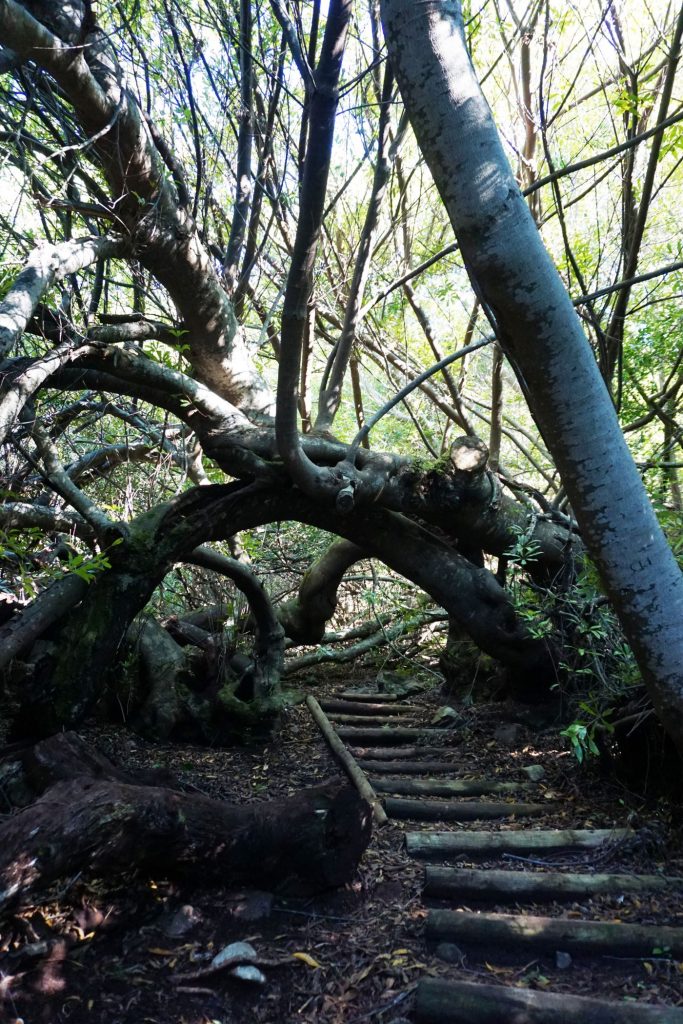 Climb the stairs
After strolling through the gardens for a while and looking at all this unique flora it will be time for you to start your ascent.
The first 500m are relatively easy, but then you will start to climb the stairs. If you usually take the elevator you won't like that part at the start, but somehow you will have to get on top of this mountain.
Besides, you will find yourself in a beautiful setting because inside the Skeleton George the vegetation resembles an enchanted forest, with fallen trees, moss and sound of birds you never heard before.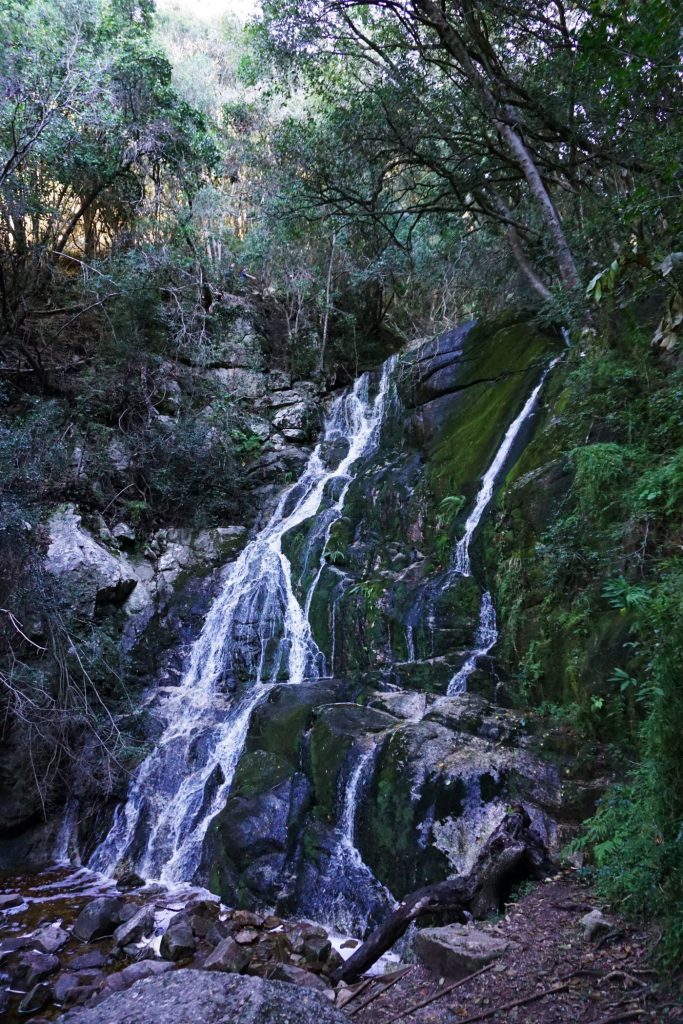 The hidden waterfall
After roughly 1.5km into the hike you will also have the chance to take a break at a small but beautiful waterfall. Follow the sound of water and you won't be able to miss it.
After the break, you will continue with some stairs, but your view of the city will get better with every meter that you get higher. After another kilometer, my favorite part starts.

Let the climb begin
First, you will have to climb up some wooden ladders that are engraved into a stone wall, followed by the ascent of the parched stream. You will have to make your way to the top by climbing over some fallen trees and massive stones, which makes this hike so unique and adventurous.
But, soon as you managed this part the hike will become a piece of cake from there on. No stairs anymore, from now one you will only have to walk up a winding path that will lead you to the first part of the top. Halftime. Time for another break.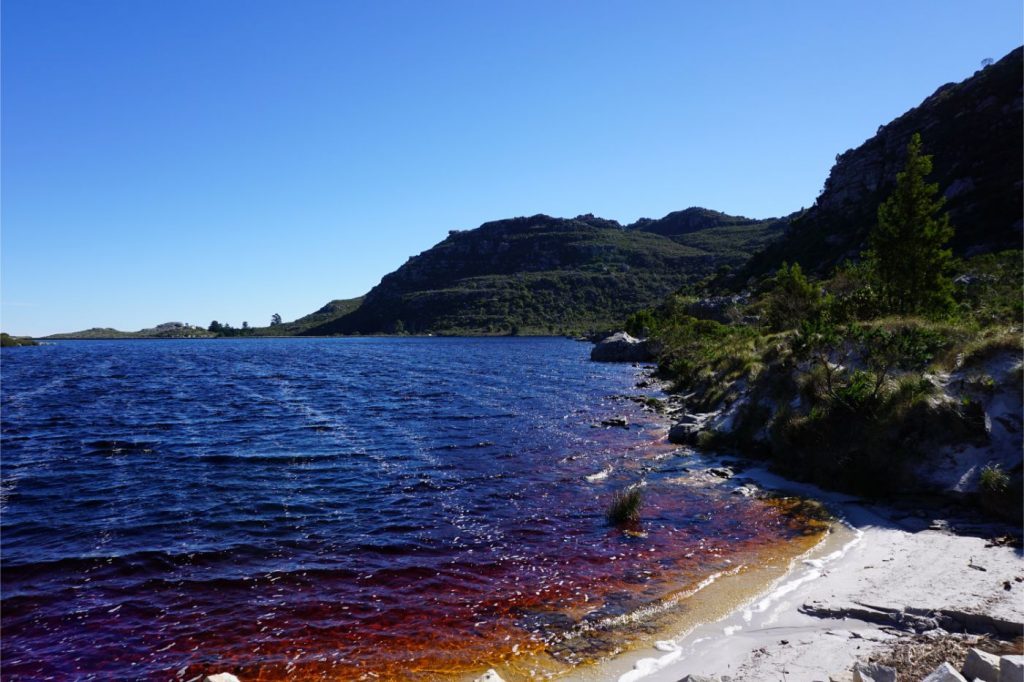 Beach on top of a mountain
You will come to a crossing where you have to turn right to get to the cable car, however, if you continue straight for around 500m you will get to a beach.
"A beach on top of a mountain?" You may ask. Yes, a beach. The De Villers water reservoir with the surrounding sand is creating an own little paradise on top of this unique mountain range.
After tanning at the beach it will be time to finish the hike, after all, you managed to get to the top put but there is still half of the hike waiting.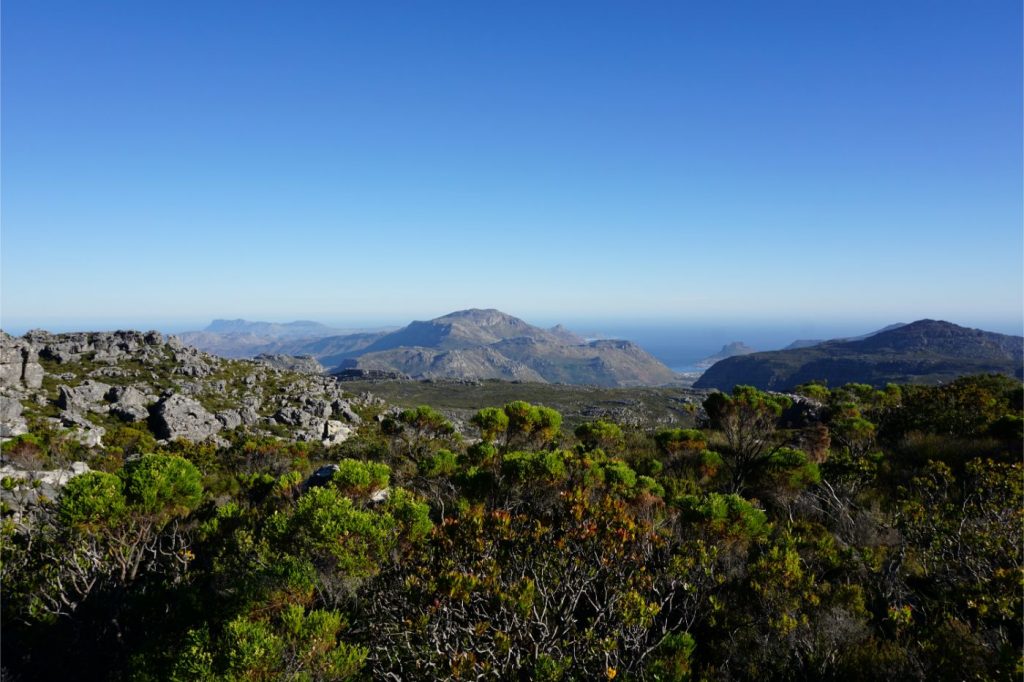 The last meters
What I loved about hiking the Table Mountain was the variety of sceneries and vegetation that you pass. On the top of the mountain, the vegetation is entirely different and you will mostly find little bushes that managed to survive on this rocky surface.
The path will lead you straight Maclear's Beacon a triangulation station that marks the highest point of the Table Mountain. From now on, you will already see the cableway and it is only a bit further to go. The part until the cableway will finally pay off for all the stairs at the beginning because you will have a magnificent view over the entire city.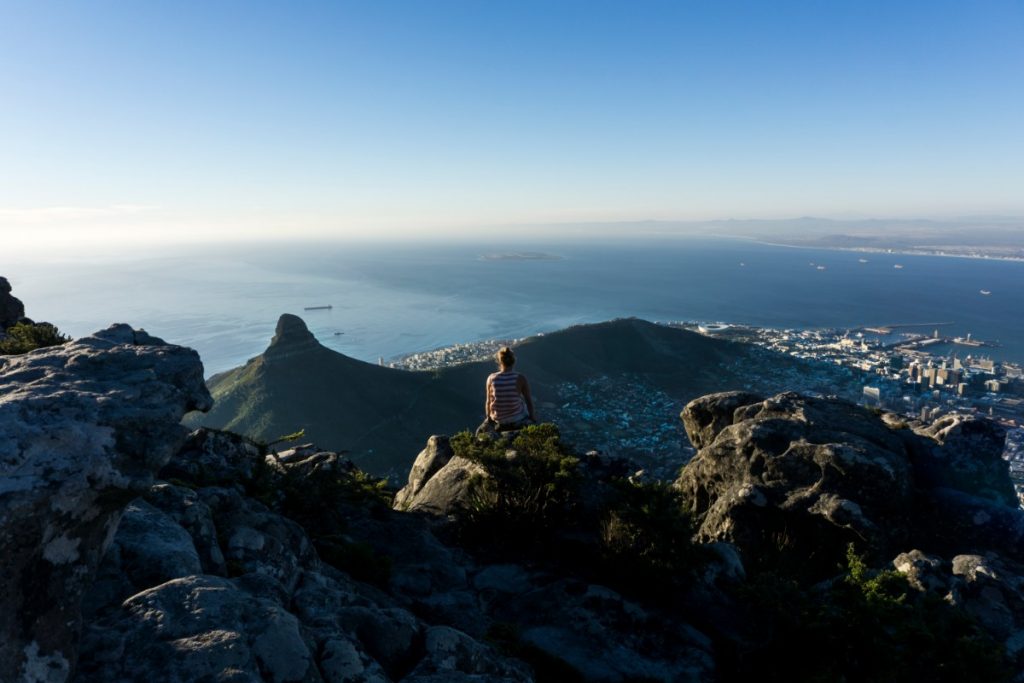 The perfect shot
It is the perfect place to get these iconic holiday pictures that you probably want to take or just to sit down and to soak in this moment for a second.
For me, it was definitely one of those places where I went when I wanted to realize that I am currently in South Africa.
I will always remember sitting on a stone on the plateau, smelling the ocean breeze and looking down on this beautiful city that I was honored to call my home for 7 months.
---
I would love to get some feedback! Was this article helpful? Were you ever hiking the Table Mountain? What is your favorite hike at the Table Mountains? Let me know what you think below.
One more thing, if you are uncertain if you can do it by yourself, there are also companies that happily take you up there, find them here: Hike Addicts & Hike Table Mountain