Our trip to Marrakech was a blast in terms of food. All my friends and family know that, for me, everything is about food; I just always think about eating. I'm eating and already think about what I'll eat next, I go to bed thinking about breakfast ! Do you feel the same ? I'm obsessed with food. And during our trips, I'm often in charge of finding places to eat. Because of that, I'll probably write most of the article about food on this blog.
Oli and I are trying to avoid animal products as much as possible, first for the planet, second for our health (If you want to know more about it, please let us know in comments). Marrakech was quite a positive surprise about this. I thought we won't be able to find anything vegetarian but I was wrong; it was very easy. I would say almost every dish we tried has a vegetarian option and walking around the Medina you will easily find restaurants that are 100% veggie.
When we travel we tend to be a bit more flexible about our diet. What I mean is that if the dish doesn't have a vegetarian option, we will still taste it because for us local cuisine is part of discovering the culture of the country that we visit. You can't go to Taipei and eat Mcdonalds, do you agree? That's the reason why you might see some pictures of dishes with meat here even though we try to avoid it back home.
So let's start with our Moroccan cuisine guide now !
Our French readers will probably already know some of the dishes I'm going to talk about as we have plenty of people with Moroccan origin and Moroccan restaurants in France. However, I will still explain the dishes for those of you who don't know much about this rich and tasteful cuisine.

Tajine
As soon as we arrived in Marrakech, I was craving for a tajine. I ate it in France and having one in its original country was in my mind for weeks now. So we just dropped our luggage at the riad and looked for a restaurant. Our guide recommended "the Mythe" restaurant on Jemaa el Fna square.
A tajine is an easy dish to make, we even cooked one during our cooking class at La Maison Arabe. It's all about cooking the ingredients slowly in a tajine plate and the right spices: paprika, ginger, curcuma, and cumin. Cumin is the most used spice in Moroccan cuisine and it's common to see it on the tables with salt and pepper.
You will have a choice between vegetable, chicken, lamb, beef or fish tajine but you definitely have to try one before you leave.

Couscous
Let's continue with the second most popular Moroccan dish: couscous. This is my favorite as I love semolina. It is quite similar to tajine, just with semolina. There are tons of variety as well, chicken, merguez, lamb, fish or again just with vegetables.

Pastillas
Do you know pastillas ? We didn't so, of course, we had to try. You can see it on the picture at the bottom left, under the grated cheese. It sounds Spanish because it comes from Andalucia but it's widely spread in North Africa and in particular in Morocco.
Our guide Radouane talked to us about it during our walk through the Medina and we tried for dinner later on. He said it is the most common dish for Moroccan people.
A pastilla is a mix of sweet and savory flavor made of werqa dough which is similar to phyllo dough. It is filled with meat (quite often pigeon) that is slowly cooked with spices and then shredded. But again, it is also available as a vegetarian option in a few places. On the outside, it is covered with almonds, cinnamon, and sugar. If you go to Morocco do not hesitate, get one, you won't regret it !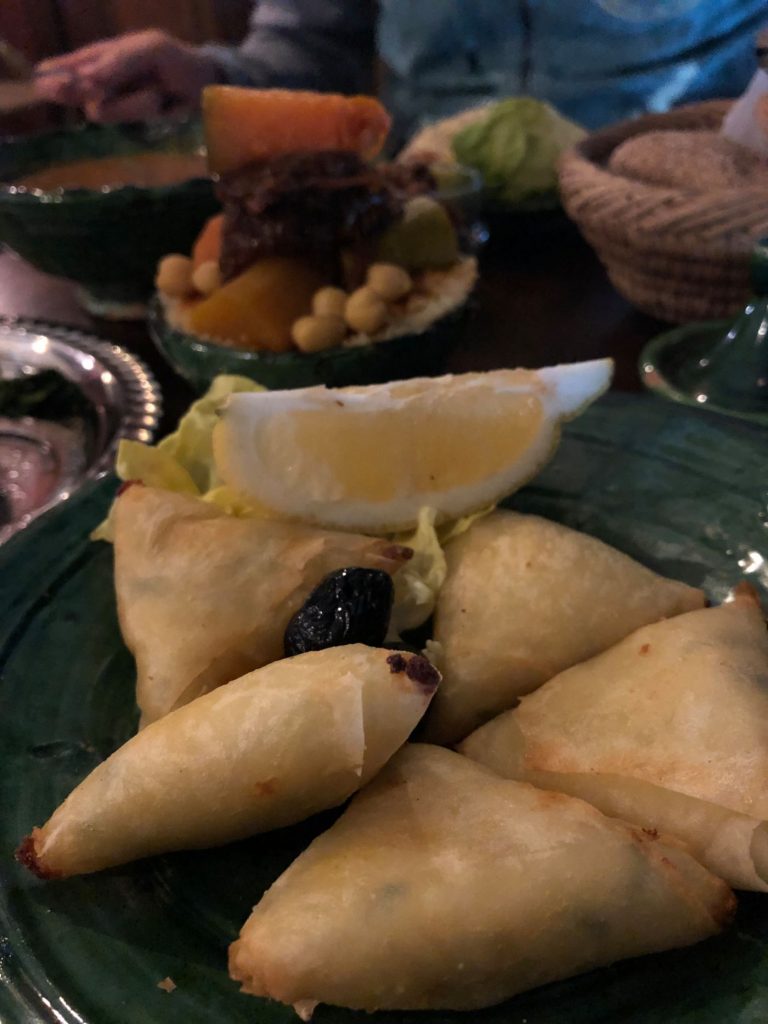 Briwats
Briwats are so delicious and perfect for a snack or lunch on the way. Do you know samosas ? It is pretty similar. It can be sweet or savoury, the most popular are filled with meat (lamb or chicken), cheese, lemon and pepper. They are also made out of werqa dough.
You can find them in any Moroccan restaurants as well as on the street if you wish to buy some on the go.

Salads
When it comes to salads I need to warn you about something. Salads in Morocco are made with cooked vegetables, cold but very different from what you have in mind. Of course, you can also find salads like it is commonly known.
If you like eggplants, I recommend the Zaalouk salad. The main ingredients are cooked tomatoes and eggplants with spices, of course. It is yummy.

Bread
Moroccan bread is similar to a lot of arabic bread, round, flat and yummy. We were so lucky to learn how to make bread when we did the cooking class. It is actually really easy and quick to make, and you can find tons of recipes on the Internet.
Our host then showed us where local people go to cook their bread. We entered a little door and went down some stairs. There was a old man next to an oven , really unique experience and we loved it. Locals do their bread at home and then bring it to these places to cook it. They come back a few minutes later and get a nice and warm bread.

Milk pastilla
Arriving at the best part, dessert! If you have a sweet tooth, Moroccan cuisine will be sweet heaven for you.
We both fell in love with a dessert here, milk pastilla. The first time we saw it we were wondering what it was and when we tried it, it was amazing.
It is basically layers of phyllo dough (a lot of dishes are made with those types of dough in Moroccan cuisine) with rose flavored light cream in between and ice sugar and almonds on top. This dessert is perfect when you're full after a heavy lunch or dinner but still want to finish on a sweet note.
Must try!

Moroccan pastries
Last but not least, Moroccan pastries. This is also something you can't miss out on your Moroccan cuisine tour. They have tons of different ones, all very sweet and yummy. Pastries shops are easy to find, however, you can also buy them to locals on the street, they will be as good or even better as homemade. Tell us your favorite ! Mine are "Corne de gazelle" 🙂
---
I hope you liked this article! Another will be coming soon about the restaurants we recommend (or don't). And here is a little guide about what you shouldn't miss when you visit Marrakech. Please feel free to add more information in the comments below or just to tell us if you like it!