Intro.
(This post contains affiliate links, which means I receive a certain percentage of a sale if you purchase after clicking.)
I'm so excited to tell you about our 7 days road trip to Southern Germany. We discovered places where we both had never been before and I have to say, there were a lot of good surprises. Hopefully, it can help you to plan your next trip to Germany. I will also tell you where we stayed or nice restaurants where we have been so you can also put it on your bucket list for Germany.
I decided to divide our German road trip into two articles. Otherwise, it would have been way too long for you to read and find answers to your questions. So there will be this article, "Our 7-days road trip to Southern Germany" and another one about the last part of our trip to the north of the country.
We started to discover the south of Germany as we were coming from Strasbourg in France. Our journey began with a beautiful hike in the black forest region departing from the city of Lenzkirch. Our 7-days road trip then includes Freiburg, Neuschwanstein Castle, Eibsee Lake, and Nuremberg.
---
Day 1 to 3 of our 7-days road trip to southern Germany
Hiking in the Black Forest
We arrived in Lenzkirch late during the day. We parked our car and got our equipment ready for the next 3 days. You will easily find free car parking in this little town. On top of that, it is not far from your final point of the hike. We wanted to start hiking right away in order to have fewer kilometers the next day. The temperatures were really high at this period of the year so we wanted to take advantage of lower temperatures in the mornings and evenings. In the end, we were so in the flow that we almost hiked all day long the next days. But I would highly recommend you NOT to do the same. Because we ended up with a heat stroke the next day we finished this hike.
Day 1: From Lenzkirch to the Wutach river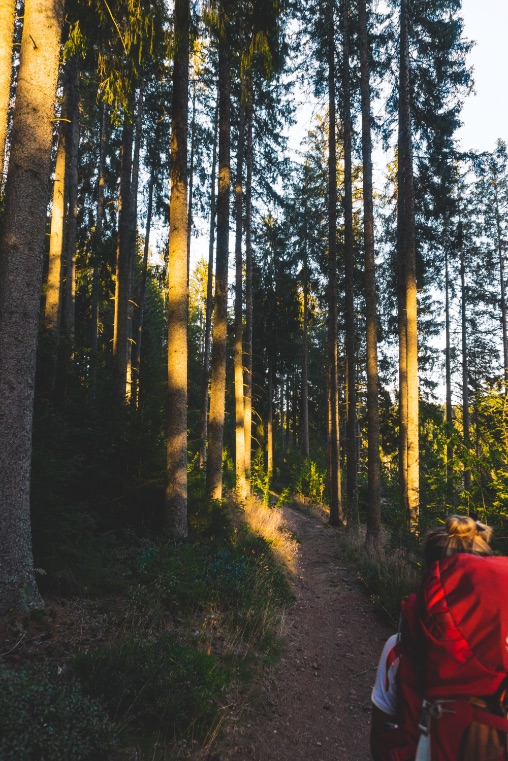 So we walked for around 5 kilometers and put up the tent along the Wutach river. We chose a spot where our stay wouldn't cause any damage to the environment and leave it as we found it was. A small flat spot with a dead leaves carpet was perfect. If you wonder what you should take for this kind of hike in the Black Forest region, check our article about some essential tips that we recommend in order to get the best out of it.
Day 2: from the Wutach river to Blumberg

We woke up the next day and started walking with the sounds of nature and animals waking up. I am not a morning person. So Oliver tries to respect this (he is the opposite) so we were hiking silently for the first hour of the day with only those sounds and beautiful morning light.
Even though the temperatures were crazy we were quite lucky as the second-day hike was continued along the river. So we could have a break and a little swim whenever we felt like it. The second night, we found a little spot in the corner of a field with a view over the valley. It was perfect.
Day 3: from Blumberg to Wutachflühen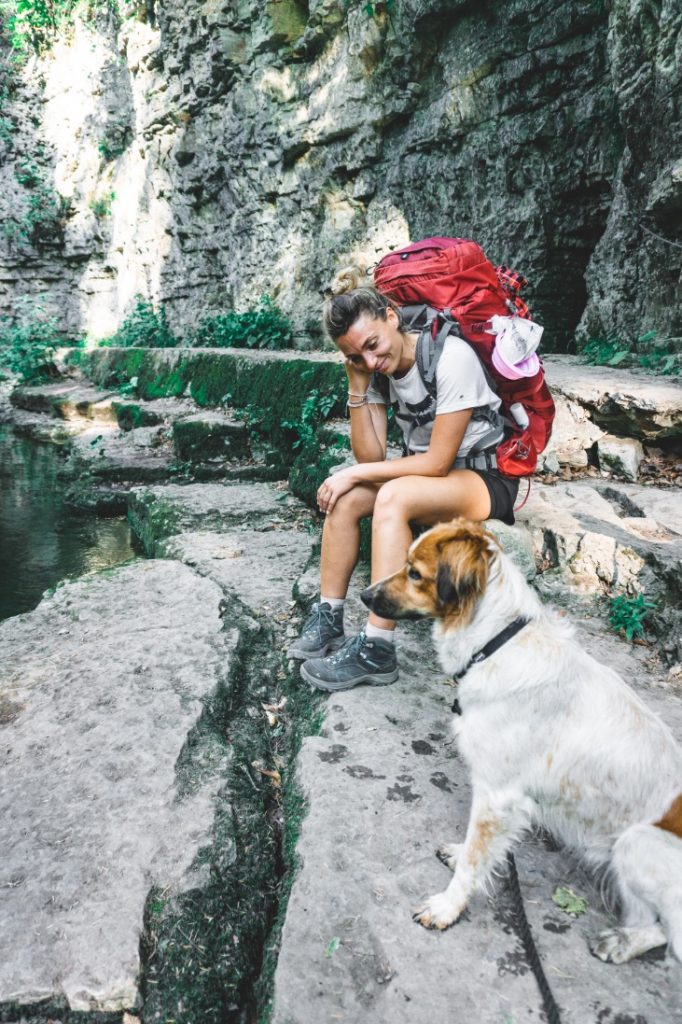 The last day was more of an effort as the temperatures were still really hot and we were not always in the shade of the forest. Some parts were on the road so the sun was hitting us and we had to do a lot of breaks.
What we really admired about this 3 days hike is that the landscapes were different every day. You will walk through thick pine forest, steep rocky gorges, endless fields, hidden waterfalls, green lush parts of the forest as well as winding gravel paths.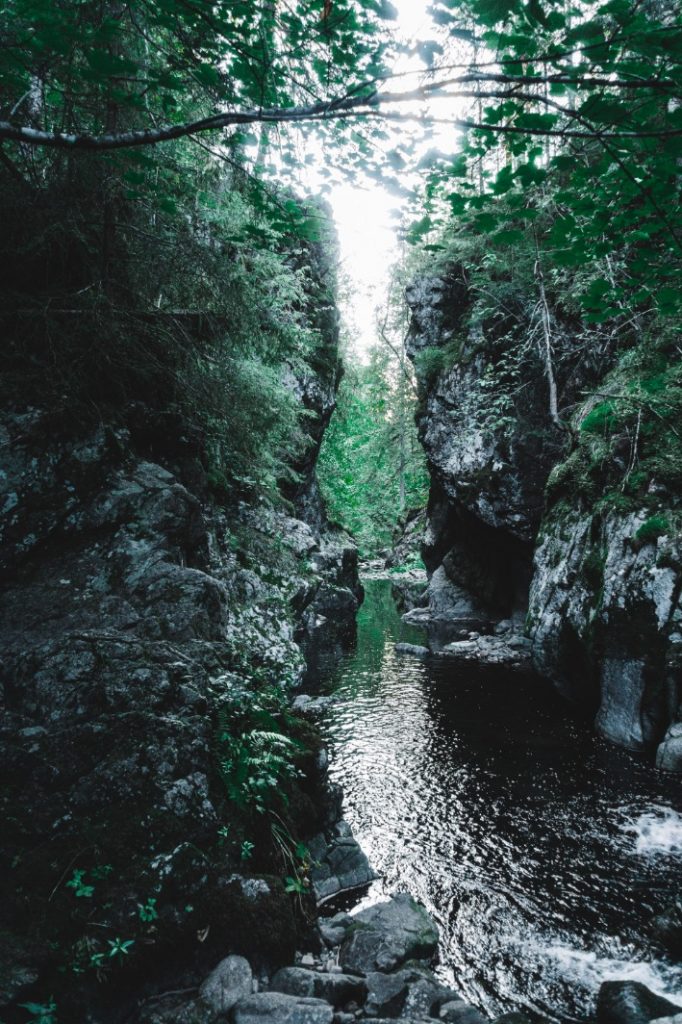 We finally reached our arrival point for the day. A motel/restaurant where you can have a little drink or snack. Well deserved after 15km hiking. That was when a thunderstorm with pouring rain occurred. We had no choice but to end up our hike here and go back to the car. It was impossible to sleep outside that night. A real kind person from the restaurant offered to drive us back to our car as there was no train or buses going on Sunday. There is also the taxi option but it costs an arm. We then drove to Freiburg for the night.
In Freiburg we booked a room in a B&B Hotel which is a bit outside of the city. Despite its location, I definitely recommend it as it is only a 10mn drive to the city center. You will find easy parking in the city and it is way cheaper than staying in the center of Freiburg.
For dinner we went to Die Blume und das blumchen. The drinks and food were both to die for. The idea of the menu is "Black Forest Tapas". We thought it was a great idea to try all the local dishes that this region has to offer. You can easily find vegetarian options among the local dishes. On top of that, the atmosphere of the place is really charming. Perfect for a warm summer night.
If you click on the link of the restaurant above, you will find on a main page a video showing perfectly the atmosphere of the place as well as their dishes (don't watch it if you're hungry!)
---
Day 4 of our 7-days road trip to southern Germany
From Freiburg to Neuschwanstein Castle
It's been a long time that Oliver wanted to visit Freiburg. It was not on the map of our southern Germany road trip but, in the end, it was then the perfect occasion. I have to say this city surprised me. Usually, there is only one city center in most of the cities. There I had the feeling there were several small ones. All really picturesque. It was really nice going from one to another while crossing the Dreisam river. The two medieval gates that you can see on the pictures above give to the city an old town charming atmosphere. Freiburg Minster is also a beautiful sight that you shouldn't miss. This cathedral is absolutely beautiful with all the sculptured details with a Romanesque and gothic style. A bit similar to the Cathedral of Strasbourg that we discovered a few days earlier.
Brunch break
There is no successful road trip without good food. Our road trip in southern Germany wasn't an exception so we will also share with you our favorite spots. We had brunch in Lollo before to start driving again. Unfortunately, I couldn't eat as much as I usually do as the heat stroke was starting to hit me from the previous hiking days. However, the drinks were really tasty and gorgeous. We shared a burrata beetroot tartine and pancakes, both were delicious!
We then went back to the car and drove to our next destination: Neuschwanstein Castle.
As we weren't feeling fit enough, we decided to rest in the hotel for the rest of the day and visit the Castle the next morning. We stayed at the Casa Maria hotel, which was perfectly located. It was only a 15mn drive to the car park giving access to Neuschwanstein Castle, perfect to kick the next day!
---
Day 5 of our 7-days road trip to southern Germany
Neuschwanstein Castle to Eibsee Lake
I was so surprised that you only have to pay for visiting the inside of the Neuschwanstein castle. If you google this site you often find a recurrent picture taken from a famous bridge in front of the castle. This bridge is called the Queen's Mary bridge. I would have thought it would be accessible only for visitors that paid. It's not. The access it for free and there is a little hike to do on the other side of the bridge. You will then have different viewpoints on the castle. You can reach this bridge by bus or by walk (around 40mn). I would recommend you do it on walking as it is not a difficult path and it's a nice walk among the pine forest.
We couldn't visit the castle as it was sold out. We also had our dog with us that was not allowed inside. However, I think it's definitely something that must be magical to see. This place has been the inspiration for the Disney Castle. It's location among mountains and pine trees forest totally already makes the place so charming.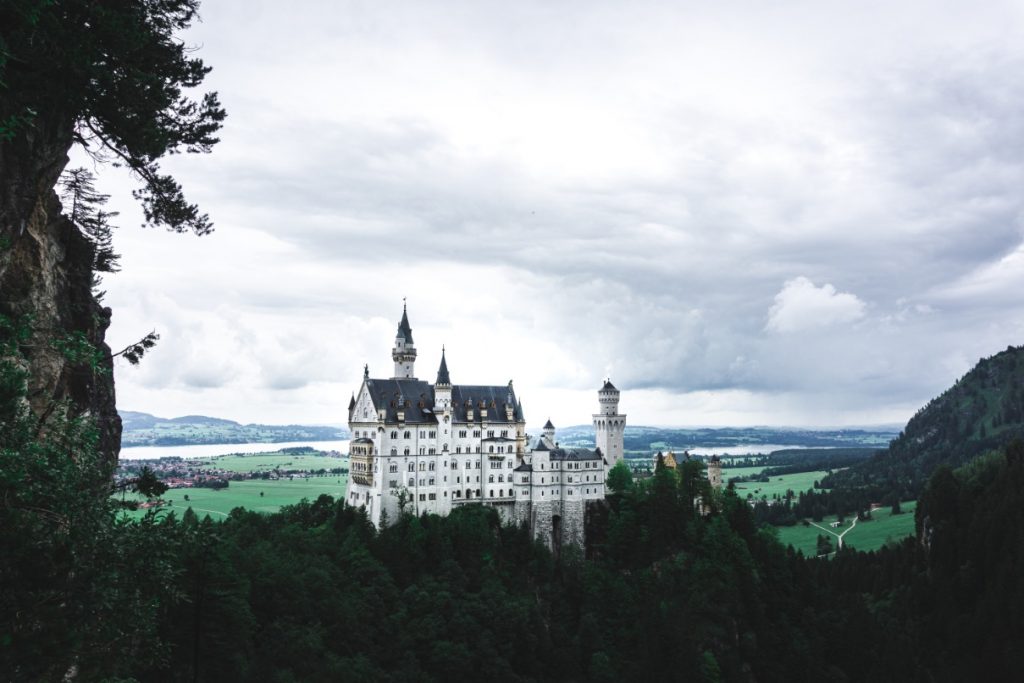 Our accommodation around Eibsee Lake
We then drove to our next stop: Eibsee lake. We found a little hotel to stay for the night that was only 20mn away from the lake. One of our recommendations would be that you book your accommodation in advance. There are not a lot of options in the area. And it can get quite limited and expensive if you wait until the last minute like we did. If you want to have a look where we stayed, click here.
Still recovering from the heatstroke, our day ended up the same as the day before. We just rested in the room, getting some strengths for the next day…
---
Day 6 of our 7-days road trip to southern Germany
Eibsee Lake to Nuremberg

Where to get a nice lunch and coffee
This all road trip to Germany is not part of our holidays. Because of the Covid19, Oliver has to do home office and I'm currently not working anymore so we are kind of free. We both can work from almost anywhere. For this reason, this morning we had to work. We found a nice coffee shop called Wildkaffee Café. We stayed there before exploring one of the most exciting places on our road trip to southern Germany. So if you're looking for a nice place to grab a coffee or have something to eat, don't hesitate to visit Wildkaffee Café.
Eibsee Lake
After a few hours of work, we finally drove to the Eibsee lake. It was raining dogs in the morning and we weren't sure about still going there. But I was talking about it for days so we gave it a try. And thank god we did! It wasn't sunny, it wasn't super warm (only 11 degrees) but damn it was beautiful! Can you imagine those fairytales with a misty forest and fumes evaporating from the lake? That was the Eibsee lake on this day.
It is my best memory from our road trip so far. You could still see the shades of blue of the water. The clouds were super low and you couldn't see the mountains so it created such a mysterious atmosphere. So my advice, first don't miss out on this place if you travel through the south of Germany. Second, go there no matter how the weather looks like. I stop here because I could talk for hours about this place and it's not the topic of this article 😉
3 hours drive later, we arrived in Nuremberg. This is the second biggest city of Bavaria after Munich and where Oliver's best friend and his girlfriend live. We stayed at their place for the night and only visited this city the next day after we both worked.
---
Day 7 of our 7-days road trip to southern Germany
Nuremberg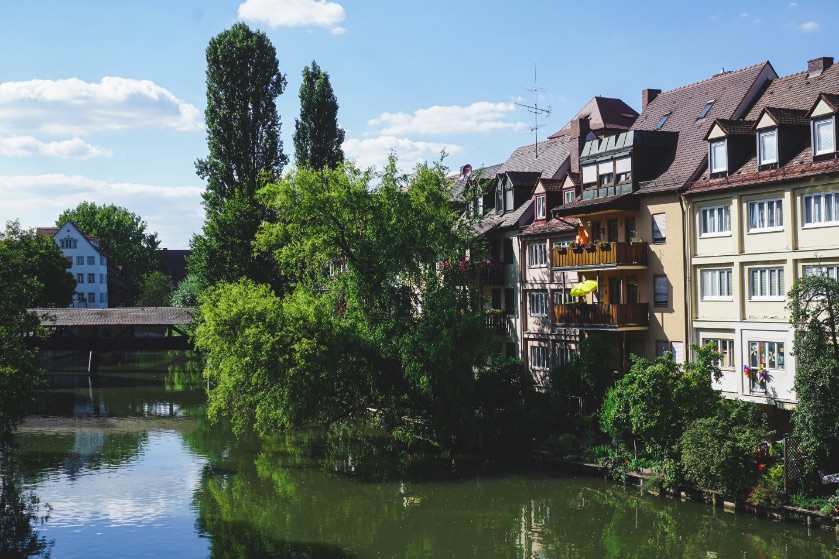 Nuremberg is the second biggest city in Bavaria. We started by walking around the castle that has been rebuilt and then walked around the city center. Nuremberg is definitely the city of bridges, there are dozens of them. They give such a cute and charming atmosphere. We stopped at a great homemade ice cream shop called Die kleine eismanufaktur.
In the evening we went back to the castle area for a typical Bavarian dinner. The restaurant is called Hexenhäusle which is also a beer garden. This is the perfect place to discover the Bavarian local cuisine and have a genuine German experience. We had a great moment there so we definitely recommend it.
I have always traveled to the main cities in Germany. Especially because of my previous job as a flight attendant. I was flying on a regular basis to Hamburg, Frankfurt, Dusseldorf, and Munich. And then Berlin as Oliver is from there and we lived there. Thank to this 7-days road trip in southern Germany I discovered an aspect of this country that I didn't know. A more rural Germany where the community relationship seems to be more present. Berlin doesn't really have a specific architecture due to WWII, it was also nice to discover what the countryside has to offer about this. I could totally see the difference between the South and the North of Germany.
---
Conclusion
This 7-day road trip to southern Germany was a perfect mix of sightseeing in cities and recharge in nature, away from mass tourism. The best combo in our opinion. I think a 7 days road trip is the minimum you should do. The main reason for this is that there is much more to explore and discover. Yet, as we also have great plans with family and friends we had to stick to our itinerary. On top of that, we know that we come back to Germany regularly so we will be able to visit more later on. However, there is nothing on our trip that I wouldn't recommend you to do. Honestly, every place was totally worth it.
All feedbacks are welcome. If you have any questions about places we have been during this road trip in Southern Germany, feel free to leave a comment below or use our mailbox. Also, if you have any recommendations for places to visit or restaurants in Germany feel free to share with everyone!