Intro.
We have just finished our hike in the Black Forest in Germany a few days ago. Looking back at it, having a few essential backpacking tips would have been very helpful.
Indeed, we realized that we didn't pack the right things even though we thought we did. Hiking for a day is different from hiking several days in a row and sleeping in the wild. Additionally, every hiking track is different and you can find more or fewer infrastructures along the way according to where you are.
I am going to tell which issues we faced and what we could have done differently in terms of backpacking.
---
Before to start I would like to tell you briefly our itinerary. Hopefully, it gives you an idea of how we hiked during those 3 days. We started our hike around 7 pm, in Lenzkirch. We walked for approximately 2h and put up the tent along the river. The next day was our longest day as we hiked around 21km to Wutachmühle. And the last day was shorter but more intense due to the high temperatures. We hiked up to Wutachflüchen. Unfortunately, we had to stop there and drive back to Freiburg because of the weather conditions. Now that you know a bit more about our itinerary, let's talk about what you should or shouldn't pack for this adventure!
Choose your camping equipment smartly
First of all, we decided to do wild camping. The main reason was that Oliver loves nature and sleeping in the wild. Falling asleep and waking up with the sounds of this environment. If you have never done it, we highly recommend you do it at least once in your life. Mostly it reconnects you with who you are and your place in this world. Reminding you how small and vulnerable you are. And how important it is to take care of this beautiful place welcoming us.
On one side, it can be a bit stressful to be alone, or even with another person, in the middle of nowhere and with plenty of noises that you don't know. My heartbeat is always increasing a bit when I hear a louder noise around. On the other side, the sleep you get is so recovering and deep. Imagine, fresh and pure air, no human noise, and deep sleep after a long day of hiking.
In order to experience that, of course, you need to be well equipped. That's when we start to get deeper into our topic. To make it short, we had a classic 2 people tent and an inflatable mattress that we usually use for camping in the South West of France. Plus a pump for the mattress, a sleeping bag and that is it.
Even though when settled it was perfect, it was too heavy to carry. Back at home when we started packing we knew we had to be careful with the weight as we were going to hike approximately 15km a day. Unfortunately, we still had too much weight.
My first advice would be then to invest in those super-light tents and mattresses. Our mattress for example was 5kg (+ the pump). You can find some for only 500g like you can see on this website for example! As you can see it can make a huge difference. Concerning the tent, you can also find super light ones and easy to put up. I know that Decathlon for example is selling now for a few years already a 2-sec tent.
The original plan was to hike 15km per day. However, as we were feeling good at our speed and physically we kept going and walked more than that. Obviously, it would have been even better and more enjoyable with a bit less weight on our shoulders.
---
What shall you pack in terms of food for a Black Forest hike
The second point, food packing. We packed a cooking stove and pots. That was good and we really enjoyed having the options to eat something warm and that filled us up after a long day of effort. In terms of food, we carried 4 packages of 500g of pasta, sauces like pesto, tomato sauce, etc. Cereals bars, biscuits, chickpeas cans, bread, and chocolate spread for breakfast and 4 bottles of water including our Lifestraw bottle.
We used one package of pasta and one sauce, the cereals bars, bread, and chocolate spread. Basically we ate the first night using the cooking stove and pasta. The second night, we stopped around 8 pm at a crossing point where we found a little bar where we had a drink and a little snack. After that, we were not hungry at all so decided not to cook anything.
Last night, if you followed us on Instagram, we arrived at our final point of the day around 4 pm. Unfortunately, it started to pour rain and thunderstorms. I told Oliver that it wasn't a good idea to try to sleep in the wild with this weather and we agreed to go back to the car and book a hotel in Freiburg. Consequently, that night we didn't use the food we packed either.
On top of that, keep in mind that if you hike during hot days in summer for example you won't be that hungry, that is something we learned too. We mainly used the cereals bars when we needed some energy on the go and bread with chocolate spread for breakfast.
---
How to solve the drinking water issue in the Black Forest
Next point, how to manage your water. Something really important if you plan to hike in the Black Forest for a few days while camping. THERE ARE ALMOST NO DRINKING WATER POINTS! There won't be any place where you can refill your bottles except in some villages. However, this can be after 20km or so. We googled it before and couldn't find any information about it.
We then took 3 reusable bottles and the LifeStraw. Luckily, we bought a Lifestraw bottle a few months ago before we traveled to Yucatán. It was a lifesaver. The first day, we literally had to ask people that were in their garden by the side of the road if they could fill up our bottles. The second day, we refill our LifeStraw in the stream of the Wutafluhen. We were filling up all the bottles and then transferring the water from the reusable bottles to the LifeStraw when this one was empty.
Also keep in mind that if you are planning to cook you might need some water for that too, for example, to cook pasta or make coffee.
No shower for 3 days: what are my options
Here comes the glamorous part of the hike and this article, no shower for 3 days! Our sanitary bag was pretty easy: toothbrush and toothpaste, deodorants, and body wipes. We usually don't buy wipes in general for sustainable reasons. I tried to find the most sustainable ones and the least harmful to our health and the planet. In the end, I went with the brand Green & Love which is a French company.
Talking about wipes and waste, something you should also take is trash bags. Same as drinking water facilities, there is also no trash the whole way. Consequently, you will have to carry it until you reach the end of the trail or sometimes a village on the way.
There is no toilet on the way! This point we didn't understand. We loved that there was no infrastructure leaving the place as intact, beautiful, and wild as possible. That is one of the best things about the Black Forest trail. However, dry toilets would solve the problem of people leaving toilet paper behind. So yes, please don't leave it there, put it in a trash bag and in a trash bin later on 😉
Which clothes will you need for 3 days?
We went pretty light on clothes. I mean it was summer so it was easy peasy. First, we took the basics underwear, socks, 3 tee shirts, 2 pairs of shorts. We also packed something to sleep. It wasn't cold at all during the night so I wouldn't say that you need long sleeves and pants for the night but always check the weather forecast before you leave.
We definitely recommend you to take swimwear. Especially if you are doing the same trail as we did. The second-day hike was all along the river which made it pretty easy to just go for a swim when we were too hot and tired. On top of that, if you are doing wild camping you will appreciate a little refreshing swim, trust us! 😉
Good hiking shoes are also recommended. It is not a difficult hike but it can be slippery at some points along the river. You will also find some gravel paths going up and down that can be a bit tricky. If you are planning to do more than 15km per day as we did, hiking shoes are definitely more appropriate to walk long distances.
Last but not least, don't forget a rain jacket! There is nothing worse than continuing hiking in wet clothes because you forgot it.
Little pharmacy kit, just in case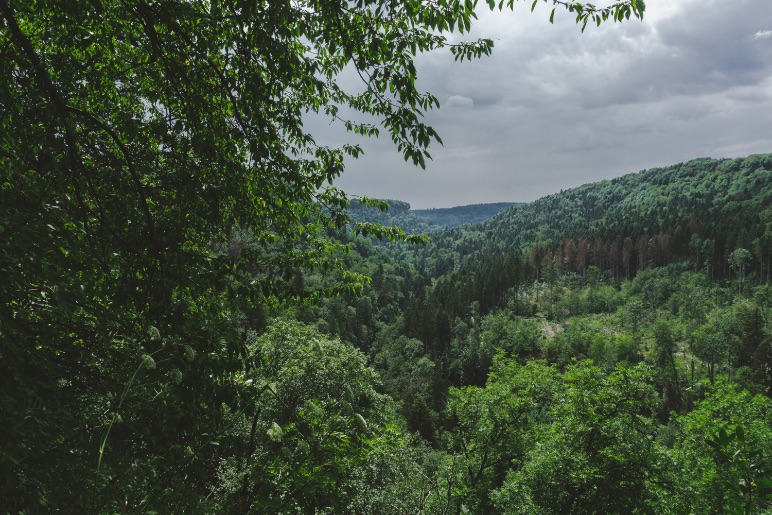 One last point I highly encourage you to put in your backpack a little pharmacy. I only packed disinfection spray, healing cream for small scratches, or insect bites and that's it. Of course, I should have taken a few paracetamol pills. I totally forgot about it.
However, I would say that the most important things to take in your backpack if you are not a confirmed hiker would be electrolytes. Especially if you are planning to hike in the Black Forest in the summertime as we did, you can get easily dehydrated.
We know what we are talking about as we probably had a heat stroke on this hike and had to go to the pharmacy the next day to buy electrolytes. The fact that access to drinking water is not easy refrained from being able to drink a lot. We barely drank 2L of water each with 36 degrees, hiking 20km the second day, so it was definitely not enough.
Last but not least, you will probably have blisters at some points. Don't forget bandaids!
---
Summary
What you should pack:
Light tent and sleeping mattress
Water purifier or LifeStraw bottle
Cooking stove and pots
Food that fills you up for your main meal of the day (pasta for example)
Snacks throughout the day (cereals bars, nuts, fruits)
Trash bags & toilet paper
Clothes, swimwear, and rain jacket (rain pants can be useful as well if you have)
Hiking shoes
Pharmacy
Sunscreen
Toiletry bags with only basics. Girls you don't really need makeup there 🙂
Portable battery
Camera
What you shouldn't pack:
Too much food, it is adding weight so think smartly and take only what you are sure you are going to it.
Heavy backpacks, try to pack as light as you can. It might seem ok or fine to carry when you try it at home. But trust us, once you are hiking for the whole day with up and down paths, it is another story.
Check the weather forecast not to pack unnecessary clothes
---
Hiking in the Black Forest is definitely something you should do. Because of the sanitary context this year, we chose to take advantage of the situation to discover our home countries a bit more as we always tend to discover places worldwide. We are so happy we explored this part of Germany and especially this way. It is the best way to enjoy nature and let your mind wander and shut down from all the stress of daily life. This backpacking guide will hopefully help you not to pack the wrong equipment and give you an insight into what you will need.
If you have any questions about the track conditions, your packing, or anything, please feel free to write us below. Also, if you wanna share your experience with hiking in the Black Forest we will be happy to hear from you 🙂 Any feedback is welcome!