After telling you about the most beautiful places to see, you might be wondering where to stay in Martinique. These are the places that have the best locations for your stay according to our experience. We understand that it can be quite overwhelming to look for accommodation. Especially in a place, you have never been to before. Naturally, there are several things to take into account and we all have different criteria. For this reason, we will give you different options about where to stay while describing the advantages of each area.
(This post contains affiliate links, which means I receive a certain percentage of a sale if you purchase after clicking.)
---
Anse Mitan & Trois-ilets
This area is pretty famous for tourists. You will notice it as soon as you arrive as there is a bigger concentration of hotels in this area. However, don't get us wrong, it is still really preserved from mass tourism.
Also, I feel really familiar with this area as I used to stay there with my mum. That was the place of our summer holidays. It actually feels like home to me.

Our hotel, the "Hotel Bambou" was located right on the beach of Anse Mitan which was amazing. The advantages of this accommodation are various. Firstly, it is really family-oriented. Secondly, the location is perfect (we will tell you more after). Also, the design of the place respects the local architecture and culture making you feel away from home.
Indeed, you can have your own wood bungalow with a balcony or terrasse. And, if you are lucky, you can get one located close to the beach. You will then fall asleep and wake up with the sound of the waves…
As we said, the location is perfect and especially if you don't have a car. Most of the boat and catamaran tours are leaving from there. Either right from the pier 100m away, or from the marina, 15mn away by walk from the hotel.
There is also a boat shuttle from the same pier to the next bay called "Anse à l'Ane" and to the capital, Fort-de-France.
If you have a car, Les Trois Ilets is located in the center of Martinique. Thus, exploring the island won't be too much of a drive for anywhere you want to go, and only half an hour drive from/to the airport. Talking about where to go, we give you the link about the most beautiful places to see in Martinique here.
Last but not least, the touristy aspect of Les Trois Ilets provides a wide range of bars and restaurants. The "Pointe du Bout", located only 15mn away from this hotel, for example, gathers an important number of hotels, bars, restaurants, and nice shops. You will find everything you need in this area.
This is an important criterion in Martinique, especially if you decide to spend your holidays there during the low season (from June to November). Indeed, this is one of the only areas where the restaurants stay open during this period. Somewhere else, you might have to keep in mind that you will probably have to get the car to find a restaurant open.
---
Sainte Luce

Sainte Luce is a city located in the south of the island. We stayed there a few days last September.
If you are mostly planning of visiting the south and are more of a beach person, I would definitely recommend staying in this area as you will be closer to your daily activities.
In comparison to Les Trois-Ilets, this area is less touristy. As a consequence, you will find fewer hotels. However, the Karibea hotel is one I could recommend, some of the rooms have just been renovated and its infinity pool is amazing.
Also, we discovered an amazing family on Airbnb renting the ground floor of their own house. We definitely fell in love for this place and probably will book it each time we visit my mum there. Their pool with a tropical garden played a huge part in our crush.
Airbnb: Gîte Kay Nana, Sainte Luce.
You have a few different beaches in Sainte Luce that are still wild which is really enjoyable. On top of that, on the seaside on the city center, you will find a few small local restaurants that offer local cuisine including colombo, seafood, accras, etc.
To put it in a nutshell, if you know you won't will to visit the north that much and want a less tourist area to stay, I would recommend Sainte Luce.
---
Trinité & Tartane
I mentioned those two cities in the north because it depends on what your plans are. Indeed, there are also so many great activities to do in this part of the island.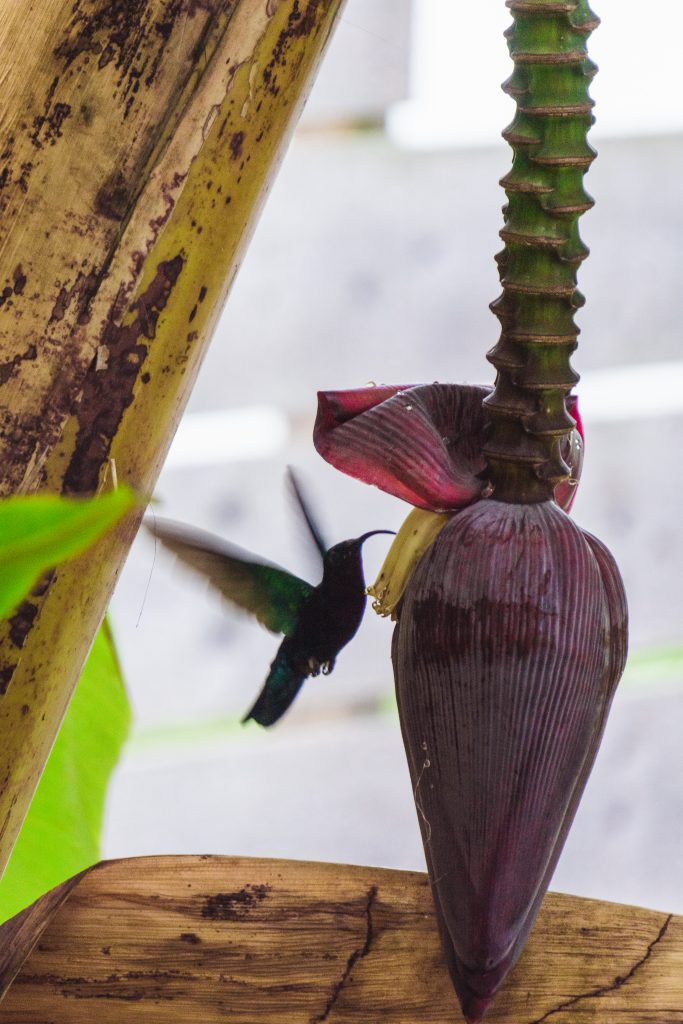 Trinité
Indeed, if the reason is exploring the green luxurious tropical forest, the wild Atlantic coast, or hiking the volcano "Montagne Pelée", then we recommend you stay in Trinité. It will then make you drive a bit shorter.
Talking about driving, driving in the north takes a lot longer than driving in the south. This is due to different reasons. First, the geography of this area is more hilly. Consequently, the roads are smaller and sinuous. For this reason, quite often, you cannot drive faster than 50km/h. Second, the north being more authentic and less touristy, the roads leading you to a little secret gem are more hectic. This is the case for Anse Couleuvre for example.
However, if you choose to stay in the north mostly for surfing, Tartane might be a better match.
Airbnb: Suite Zen au bord de la mer
---

Tartane
Located on the half-island called "Presqu'île de la Caravelle", this is THE surf spot of the island. Consequently, you will find numerous surf schools and shops where to rent a surfboard.
This time, we personally rented Oliver's at Surf Up Martinique. I also rented my board once at Bliss Surf school and they were great too. We didn't go back this time because it was close on that day.
The Presqu'île de la Caravelle is a natural reserve offering you the opportunity to hike 2 different tracks (both free of charge). For nature lovers, it is a must-do. The landscapes are truly beautiful and you can also have access to the Dubuc castle ruins.
The neighborhood where the surf schools and shops are concentrated is located right next to the entrance of the reserve.
Concerning accommodations, a lot of Airbnb is available in this area. You can easily book one with the view facing the waves of the Atlantic ocean. So if you are a wave lover, this is definitely one of the best places to stay in Martinique.
The choice is yours!
---
Conclusion
We hope this article will help to get an idea about where to sleep during your stay in Martinique. If you have any further questions, drop them in a comment and we will be happy to answer!
Also, here is the link to the most beautiful places to see in Martinique for first-timers. Enjoy your holidays!