Intro.
If you read our blog for a while or know us, you probably know how much we try to be more sustainable every day and encourage people to do the same. You can already find an article about how to become a more sustainable traveler. Today, it was important for us to try to help you to implement easy switches to become more sustainable in 2021.
2020 will definitely have had an impact on all of us. Either it is seeing things differently or acting differently, or even both. We heard even more about global warming this year. First, because the situation of the planet and its inhabitants (including us) is dramatic. But as well, because a lot of people think this pandemic is linked to global warming too. Here is a really interesting article explaining easily this point of view.
Those switches are only a few ideas that you can implement in your daily life but the alternatives are endless. Before starting, I would like to highlight that you can become a more sustainable person no matter from which background you are coming from. We can do better at every level.
"Small acts, when multiplied by millions of people, can transform the world"
Howard Zinn
---
Switch to a more sustainable Internet browser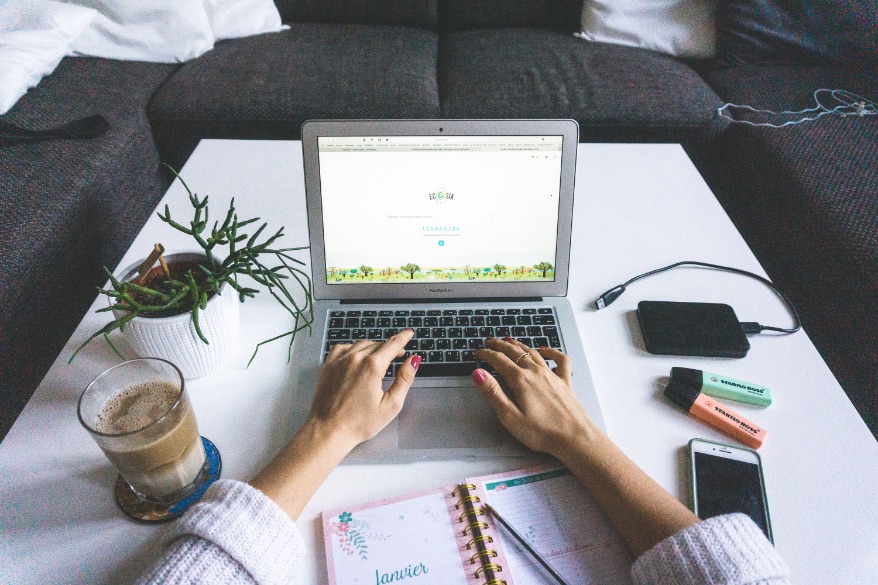 It took me a long time to get to know how much the digital industry is polluting. It's not like plastic pollution that you can see, even though it damages as much.
We did a "TIP OF THE WEEK" on Instagram a few months ago where I was sharing that only one email equals one plastic bag. Did you know?
So, one of the main switch we made and, that we recommend you to do if you want to become more sustainable in 2021, use a greener Internet browser.
We can't stop using the Internet, it is everywhere in our lives. But we can try to compensate the carbon emission it produces. For example, by switching your Internet browser.
We have now been using Ecosia for months. They are using the profit made with your search to plant trees. So basically, each time you search for something on the Internet, you plant trees!
This easy switch doesn't cost you a thing, doesn't require extra time and you won't even notify the change. The planet will.
---
Reduce your emails

Another easy switch that anybody can do to be more sustainable in 2021.
As mentioned in the previous recommendation, the digital industry is responsible for a lot of CO2 emissions. Internet research, emails, attachment, streaming video, social media, etc.
We are not going to tell you to stop using the Internet, of course not. We all need it in our personal and professional lives.
However, you can try to avoid sending emails only to answer "thank you" or "ok, see you later".
Also, deleting your emails regularly will have a huge impact on your Internet CO2 emissions. Doing it daily will take you only a few minutes. Sometimes seconds. But imagine if we all do it. 1 email = 10g of CO2. This multiplied even by only half of the population of the planet will already have a drastic impact.
Let's be honest, who actually likes to see thousands of emails notifications? For some people, it is even a cause of anxiety. Just delete them regularly.
Another easy thing you can do to reduce the number of your emails is to unsubscribe from newsletters you never open or read. We sometimes receive dozens per day and rarely read them all. Keep only the ones you actually read and you find useful.
---
Make your own cleaning products (but keep it simple!)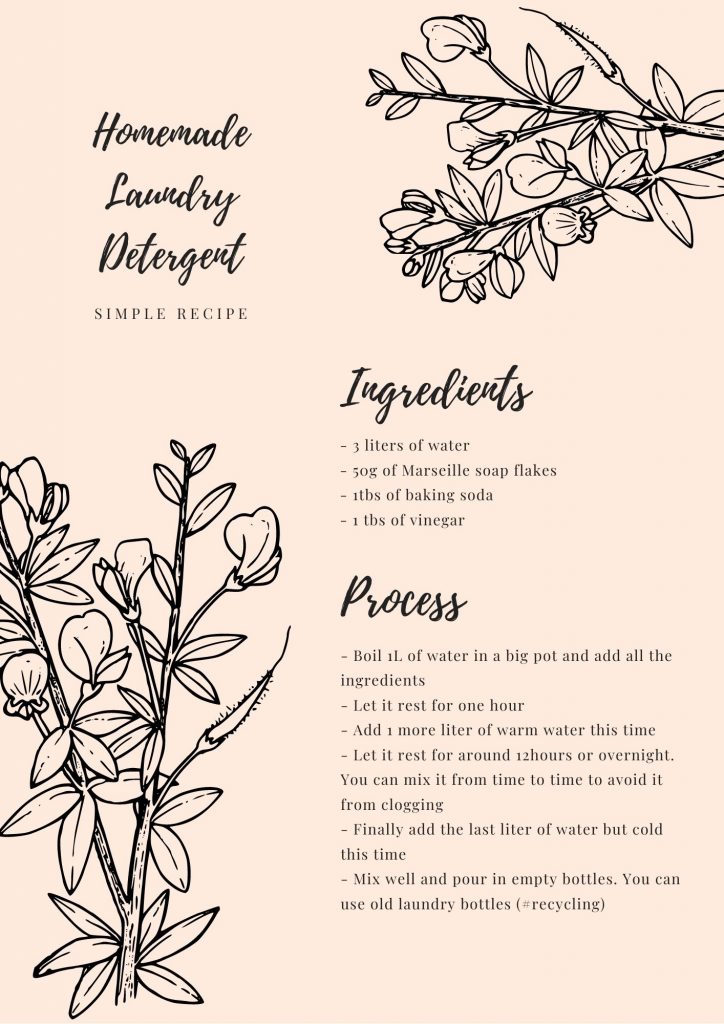 Over the last years, you might have come across tons of recipes to make your own cleaning products. This is so great as it means more people are looking for sustainable alternatives and more people spread the word. Spreading the word is one of the most powerful weapons to fight against global warming. When you know, you can't ignore it anymore (at least we hope so).
However, be careful to what you find and double check. As an example, we started to make our own laundry detergent a few years ago. Checking many recipes, all were really simple and including approximately the same ingredients. One of them is essential oils. The purpose of them being to give a good smell to your homemade detergent.
Unfortunately, essential oils are not that good for the environment. You can get more info in this article if you wish to.
Consequently, I would recommend keeping it simple and avoid using essential oils in this context. It works perfectly without it and your laundry will still smell fresh.
---
Embrace slow fashion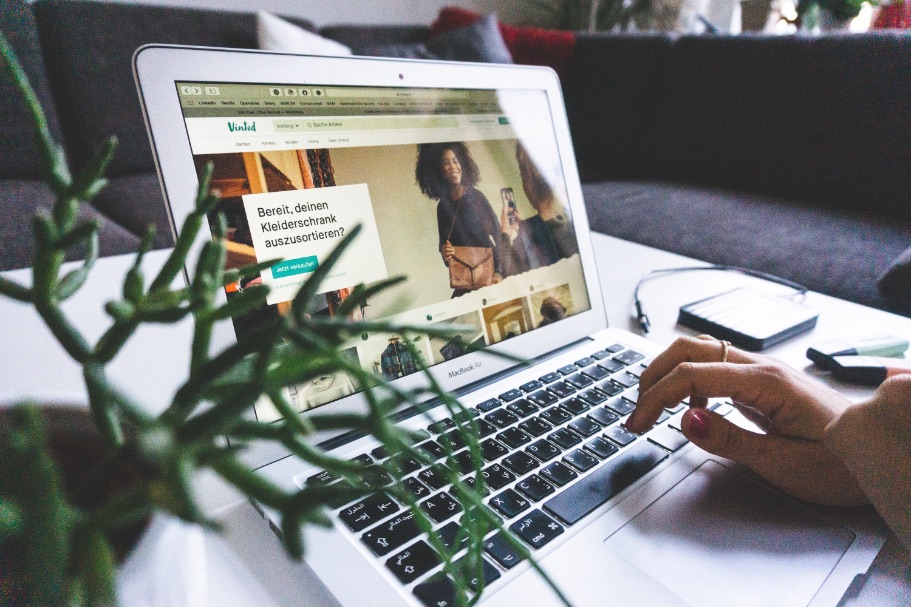 We are not going to tell you "don't buy clothes anymore". Of course, you should always ask yourself if you really need it but sometimes you can also just buy something because you like it.
However, have you thought about buying second-hand? The second-hand industry has reached a new level over the last years. And this is a super easy switch to become more sustainable in 2021. The fashion industry is one of the most polluting industries.
For people that don't like to look for a piece of clothes or shoes in a second store and the smell of old clothing (I'm among them), there are new alternatives. Also, second-hand doesn't mean old fashion.
For example. I have been using the app called Vinted over the last 2 or 3 years. It is really popular in France but there are other similar apps that you can get for your area.
What I usually do when I need a new piece of cloth, I tick "brand new" in the app. Like this, it will only show me clothes that haven't been worn and very often quite recent collections. Don't forget that unfortunately, some people still don't care about the environment and the impact of their actions. They buy and then realize they don't like it once arrived home. A few hours or days later, it is on Vinted. A brand new pair of shoes.
If you don't find what you need as a second-hand option, you can always research sustainable brands. Again, the world is changing, the fashion industry knows it. Consequently, more and more little sustainable brands are coming to life. Support those ones. It might be a bit more expensive but, is it more expensive or is it the real price we should pay for the materials and the work it required?
On top of that, if you save money buying second-hand (and you will save a lot trust me), it is then balancing to invest in a small sustainable brand from time to time, isn't it?
---
Switch to a greener bank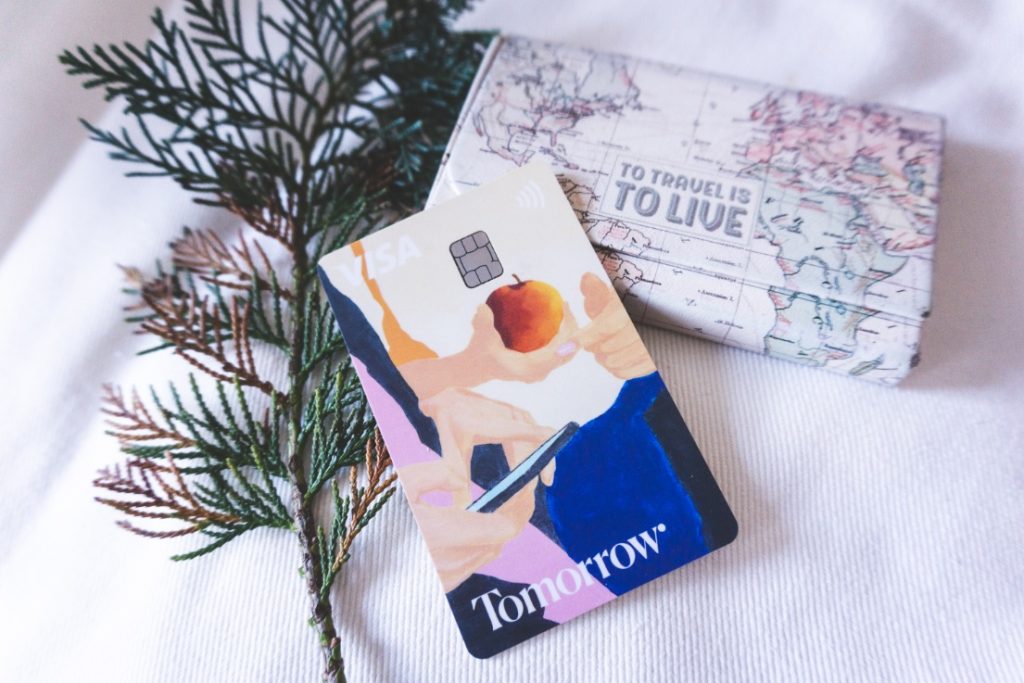 How is my bank using the money in my bank account? A question I never really asked myself until Oliver talked to me about it (the power of spreading the word!). Your wallet is your best weapon to fight against global warming. What we mean is that, when you buy something, you make a choice. The choice is yours to buy something that is bad for the planet or good (goods, services, etc.)
However, what happen with the money you didn't use yet and stays on your bank account?
"Whether in current accounts, savings accounts or equity funds – banks use their customers' money to grant loans or make investments in coal, weapons and other industries that harm our planet and us humans without our consent."
Tomorrow bank website.
For us, it then was clear that we wanted to change our bank. Using less plastic or buying brands with ecolabels is great. We should all do it if we can. Nevertheless, if you want and can go a step further and a big one, change your bank.
You only have to do a bit of research on the Internet to find sustainable banking options. Quite often, those banks are relatively new so they might not have all the services you need. You have to see what is best for you. Keep in mind, they will develop and even quicker if they have supporting customers.
Some big banks are more and more trying to put sustainable strategies in place, either being pushed by the governments to do so or for other reasons. Here as well, double-check what they are REALLY doing. It is nice to talk about what can be done but it's better when it is actually done (and if it doesn't hide something else).
Opening an online account with Tomorrow bank only took us a few minutes. This is definitely one of the easy switches to become more sustainable in 2021, maybe the best one of those suggestions.
On top of that, handling your account is very easy thanks to the app they put in place. You can even create pockets to save money aside for specific events. We both created a "travel" pocket!
Last but not least, for each euro you spend 1m2 OF RAINFOREST IS PROTECTED!
See, when we tell you that your money is your best weapon!
---
What you eat is who you are
If you want to do good for the planet, look at what is on your plate. This is not only something you will do for the planet, you will also do it for you and your health.
Of course, you don't need to be perfect in every way of your sustainable journey. Again, those are suggestions and ideas for easy switches to become more sustainable in 2021. You don't need to implement them all or all at once.
Having a sustainable diet is certainly one of the best things you can do for our planet. But nobody said you have to become vegetarian or vegan from one day to another. You don't even have to cut off animal products completely if you don't want to. Basically, you can be what we call a flexitarian. Somebody that eats fewer animal products but still from time to time.
Furthermore, alternatives to meat are getting really really good. Maybe you have heard about Beyond Meat. Their plant-based steaks are just delicious. We have tried it in a burger restaurant in Paris called Hank Burger and it was a blast. I have also seen it a lot in the foodcourts in Montreal where you have a lot of options for vegetarians.
But in general, the offer is getting wider and wider month after month. It is now becoming easy to buy plant-based products to replace your meat favorites dishes and it is getting tastier too.
---
Conclusion
All those are really easy switches you can make to become more sustainable in 2021. Most of them don't cost more than if you wouldn't change anything. This is the reason why we don't see a reason why not trying if you want to become more sustainable. And as we said, there are tons of things you can do to be more eco-friendly and if those things don't work for you or you are not ready yet, it is ok. Don't put pressure on yourself. You can try something else, a smaller step. Every step counts. Never think that it doesn't matter that you do it or not because somebody else is doing better. It is simply not true.
We hope those little suggestions will help you. Don't hesitate to research about those topics on the Internet to learn more in detail about their positive impacts on the planet.
One last thing, here is an article to give you idea how to be a more sustainable traveler!
We wish you a wonderful holiday time with your loved ones, stay safe!